Springer Spaniels are known for their athleticism and versatility, these are popular dog breeds usually excel in hunting, tracking, and obedience trials. You can entrust them to be THE perfect companion for when you're out hiking or camping.
These cute little pups need to have a space to run around because of they are always in high-spirits, making it a wonderful companion at home.
If you're planning to give an owner of a Springer Spaniel a gift or if you want to give yourself a little something to pledge allegiance to the breed, then you are in for a treat.
Check out these fun and exciting Springer Spaniel gifts below!
Springer Spaniel Coffee Mugs
Fuck It. I'm Getting A Springer Spaniel.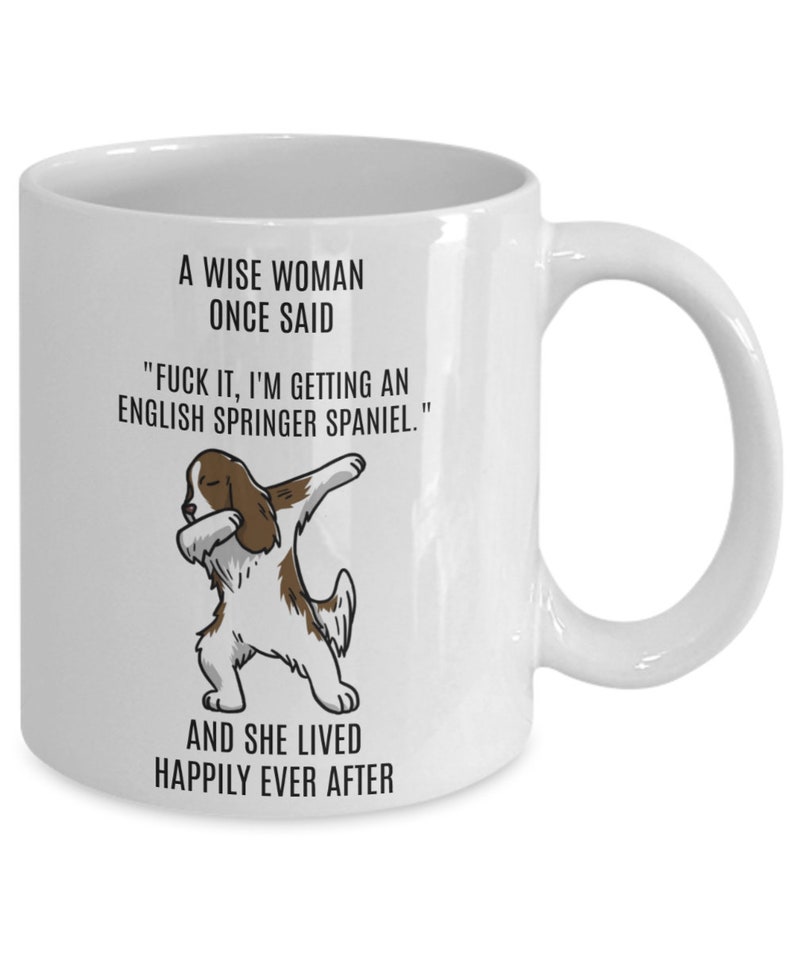 Ladies, we can all agree that dealing with men can sometimes be difficult. Men can be hard to train, naughty, and hard-headed, which is often the reason why some women prefer to be single.
But here's good news for you – you don't have to be alone. Get yourself a Springer Spaniel and live happily ever after! Goodbye to heartaches and say hello to a furball of fluff and happiness!
This Cute Graphic Art Coffee Mug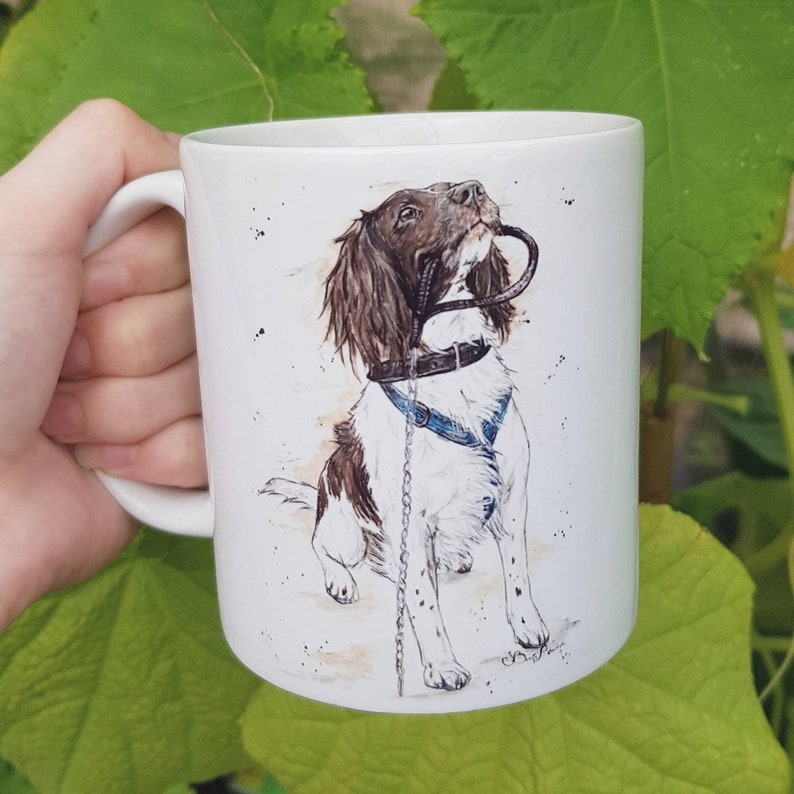 Drink coffee with your Springer Spaniel even if you're a hundred miles away from home with this adorable coffee mug to keep you company every morning.
If you know someone who's constantly travelling to far off cities for work, this is the perfect surprise gift. After all, Springer Spaniels are so much like coffee: warm, comforting, and uplifting.
Because People Are Dicks Coffee Mug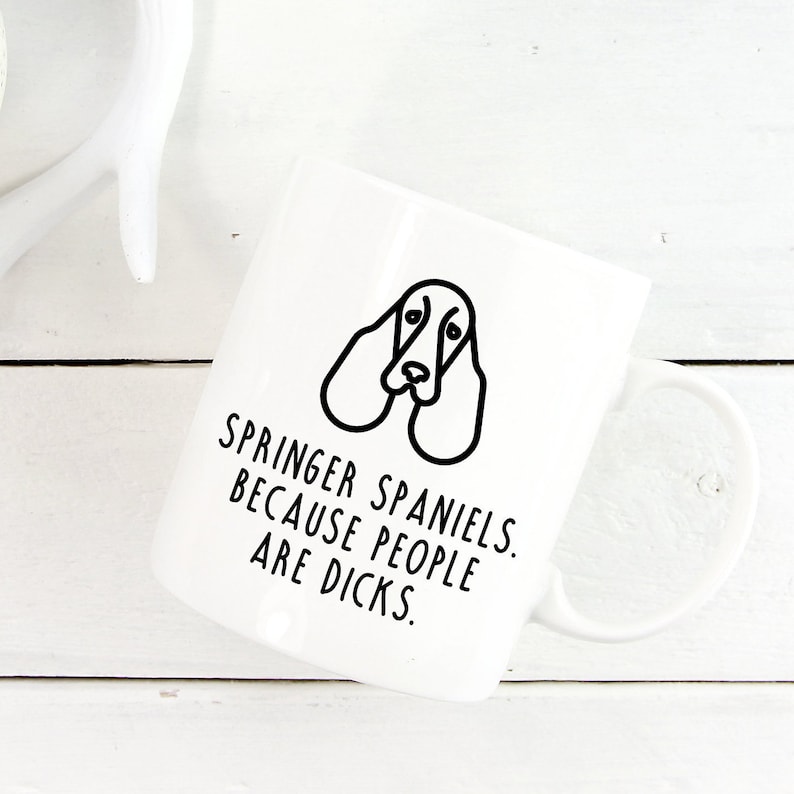 Unfortunately, there is some truth to the quote. While people can be great, most of the time they aren't. Want to know something that is ALWAYS great, 24/7? Yup, that's right. Springer Spaniels.
Get this amusing coffee mug as a gag gift or for yourself. Have a drink of your favorite cocoa, coffee, or tea with this mug as a reminder while it's true people can be dicks, Springer Spaniels aren't.
Springer Spaniel Necklaces
A Sterling Silver Pendant and Necklace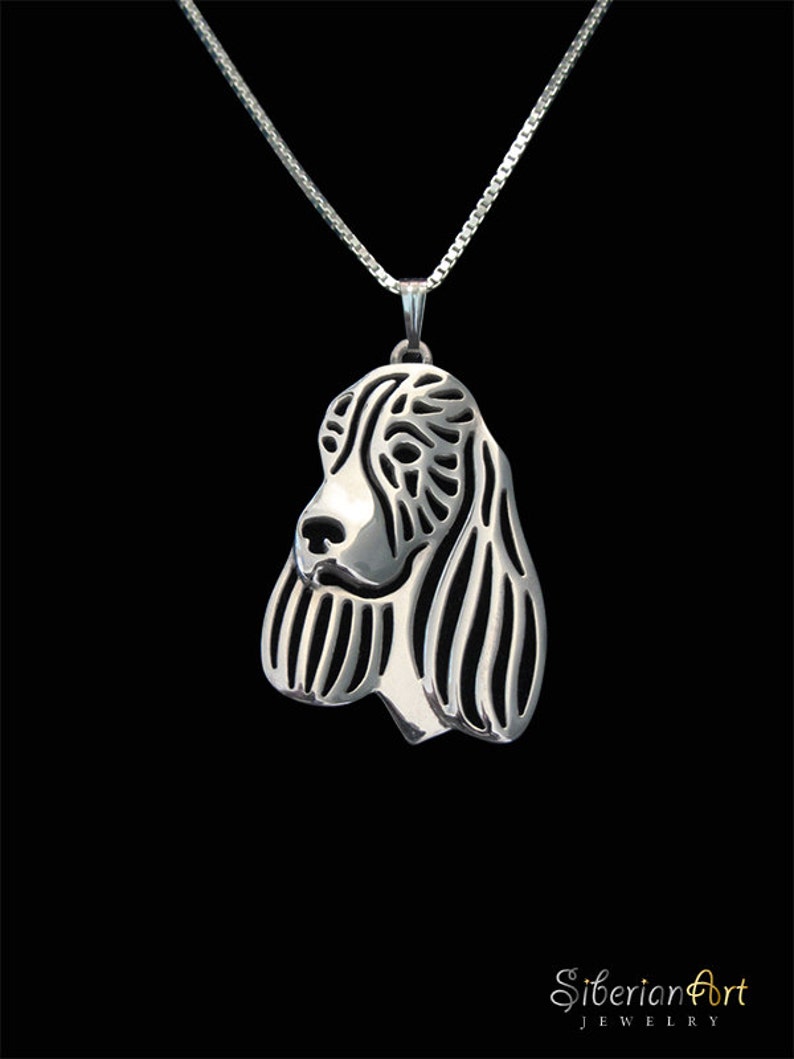 Keep your Springer Spaniel close to your heart. Literally. Bring your companion wherever you go, whether it may be to work, vacation, or travels. It's stylish, chic, and elegant – it matches well with any get-up, which is a huge plus!
You can get this a surprise gift for your friend, family member, or special someone. If you're looking for a birthday present for a Springer Spaniel owner, surprise them with this beautifully crafted pendant.
Springer Spaniel Charm Necklace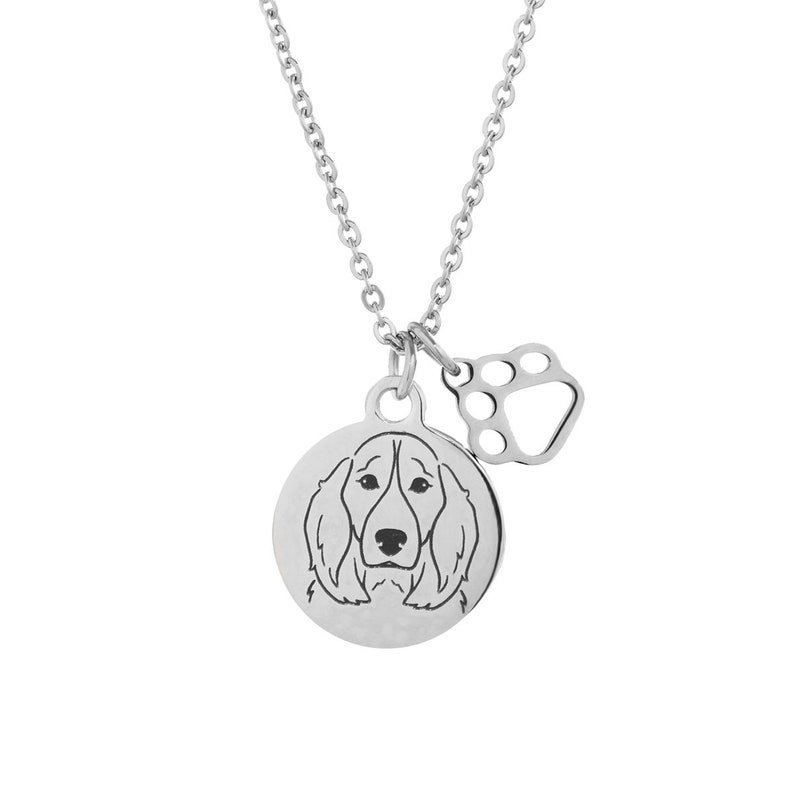 Charm your way to your loved one's heart with this Springer Spaniel Charm Necklace. There is no Springer Spaniel dog owner who would hesitate to rock this adorable stainless steel necklace.
This is a handmade item, which means each necklace gives you a unique experience. Put this around the neck of your special someone. Not only will this Springer Spaniel charm necklace brings you closer to the one you love, but it's a cute way of showing love to the Springer Spaniel breed.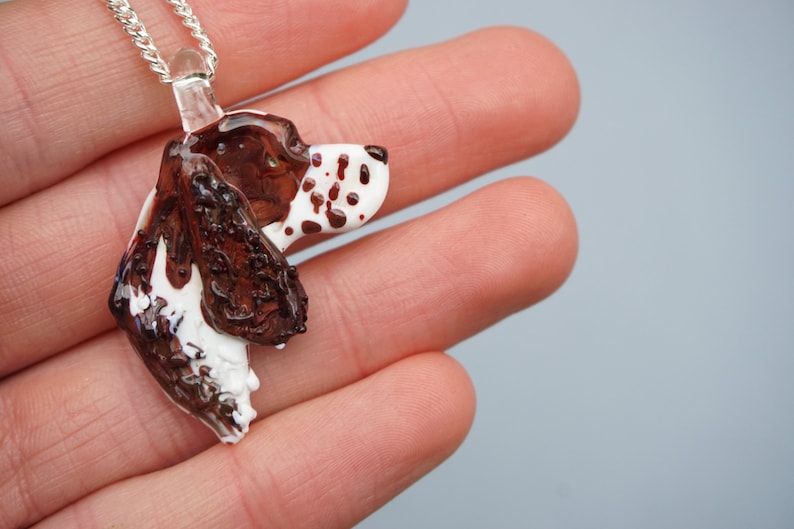 Details, details, details. This pendant is second to none when it comes to realism, it shows off the spots, colours, and edges perfectly. It's an eye-catcher even at first glance with its vibrant design and unique artistry.
Gorgeous to look at and absolutely alluring, this is one of those pendant designs where you're tempted to wear this for yourself rather than gifting to friends.
14Kt Yellow Gold Shaggy Dog Necklace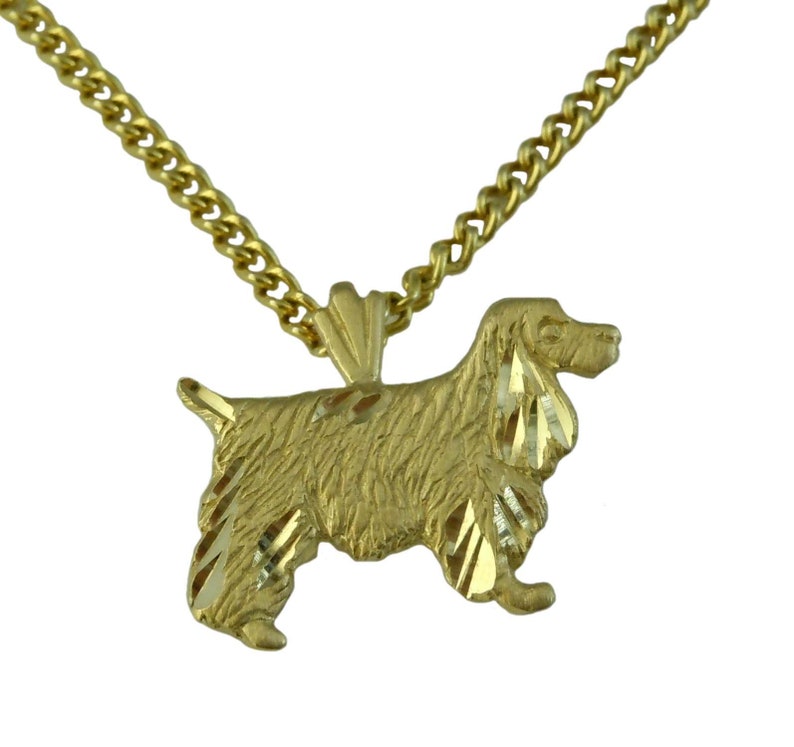 Springer Spaniels are like gold – extremely valuable, shines from afar, and timeless. Want a necklace that shows how special your pup truly is? Rock this elegant 14K Springer Spaniel necklace. It's a suitable accessory for gatherings, parties, or any other special occasions.
You can pass this necklace from generation to generation, it's a timeless keepsake that makes a perfect family heirloom for Springer Spaniel lovers.
Springer Spaniel Wall Art
Starry Night over the Rhone Art Canvas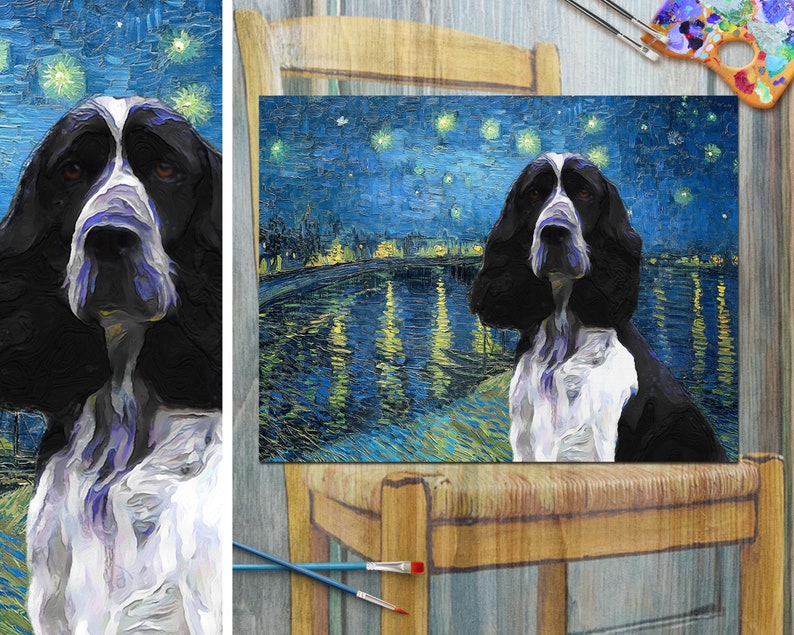 An ageless masterpiece that suits well in home, office, and apartment interiors. For Springer Spaniel lovers, this is a brilliant way to showcase your admiration for them while brightening up your space!
It makes a good conversation starter and it's a guaranteed center of attention for guests. Liven up the mood with this unique artwork – it also makes an awesome present for birthdays and anniversaries.
 This Colorful Springer Spaniel Word Art
Are you a proud owner of a Springer Spaniel? Or do you know anyone who is head-over-heels for this majestic breed? This Springer Spaniel word art seals the deal. You can have the colours and words personalised to suit your preference.
You can have you and your pup's favorite places printed on the word art OR you can list your best-friend's go-to activities. The sky is the limit – it's affordable, memorable, and it's definitely a beauty to look at. Personalise the experience with this colorful Springer Spaniel word art.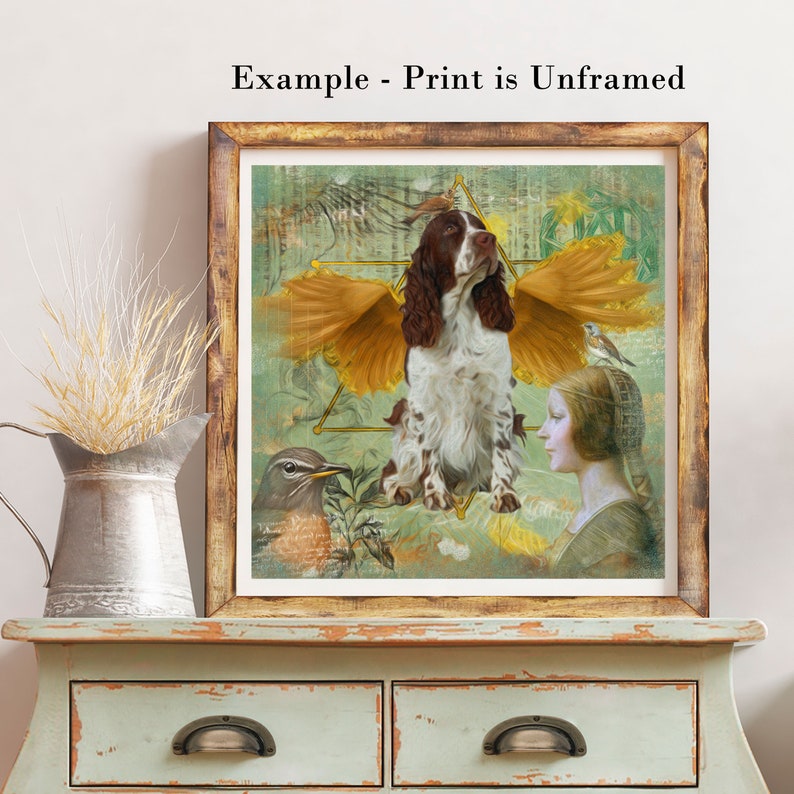 Springer Spaniels are angels sent from above, and for those who don't agree with this only means they have never met one before.
Have this angel art up on your wall to remind you of your Springer Spaniel that has passed away. While it's true they're in a better place now, it does not mean you can't have a memento to keep your pup in your heart. Besides, your Springer Spaniel will continue to guide you for lifetimes.
Tags: Springer Spaniel Gifts