Dog lovers are falling head over heels for this highly-intelligent breed of dogs. Schnauzer is popular because of their high-spirited nature, they're super easy to train and are loyal to their owners.
While a lot of owners say that their intelligence can be a blessing and curse, one thing is for sure, this breed is one of the best companions a human can have.
Whether you're surprising a friend who owns a Schnauzer or you're giving yourself a treat, here are the top Schnauzer Gifts you can give.
Schnauzer Accessories
Show your appreciation to the Schnauzer breed by wearing this one-size-fits all ring. It looks elegant, stylish, and trendy, making it the perfect for every Schnauzer dog lover out there.
You can easily adjust the ring size by bending the ring in the middle. It's made out of Zinc Alloy, and you can have the color customised to your liking. Rock your OOTD with this trendy jewelry as you show off your trendy Schnauzer Ring.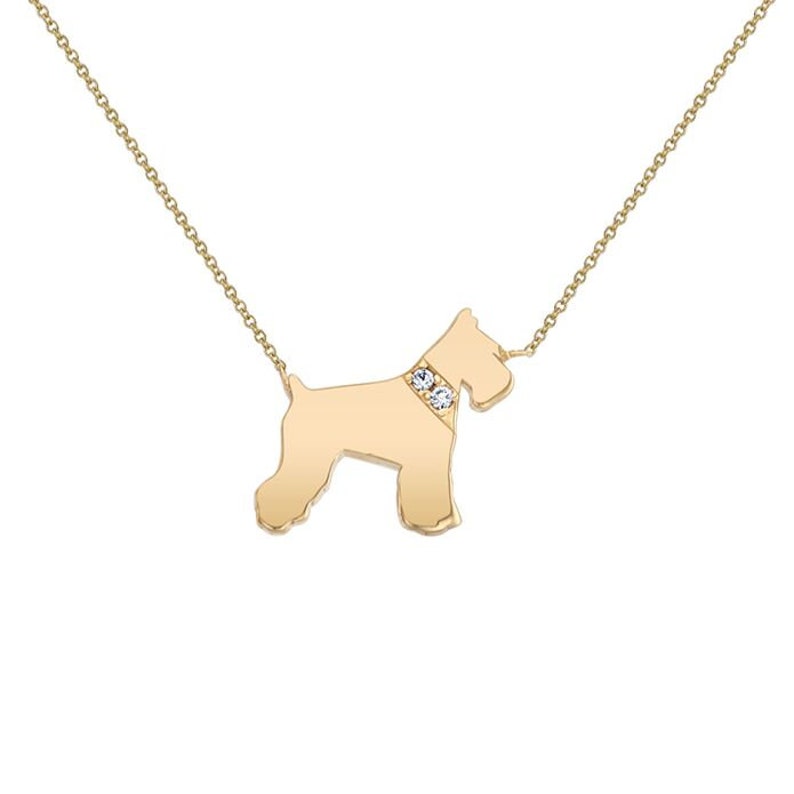 Keep your favorite four-legged companion close to your heart with this 14K rose gold necklace. It makes sure you won't ever forget your Schnauzer pup when you're out of town and its mischievous and playful ways (like that's ever going to happen).
You're going to fawn over the perfect blend of sterling silver, diamonds, and gold plate. The chain is adjustable for comfort and style, create a look that expresses your creative side.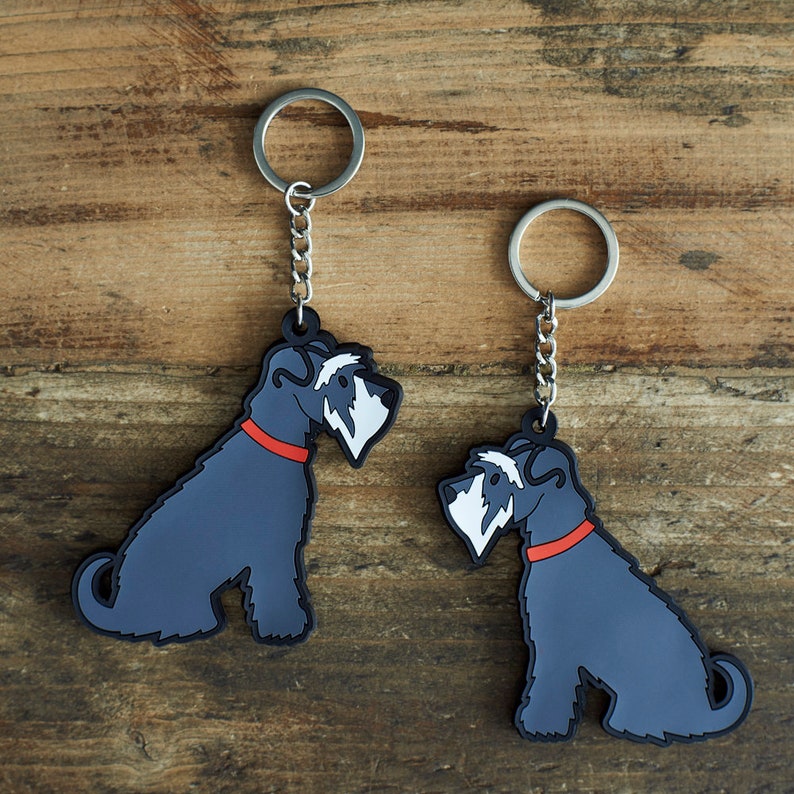 Whether you're planning to give it to a friend or purchase it for yourself, this Grey Schnauzer is something you don't want to lose as much as you don't want your key rings misplaced.
You can also have this as a cute charm to dangle on your bag, so you can spread the love to everyone you know. It's a simple, fun, and cute way of pledging your allegiance to the Schnauzer breed as well!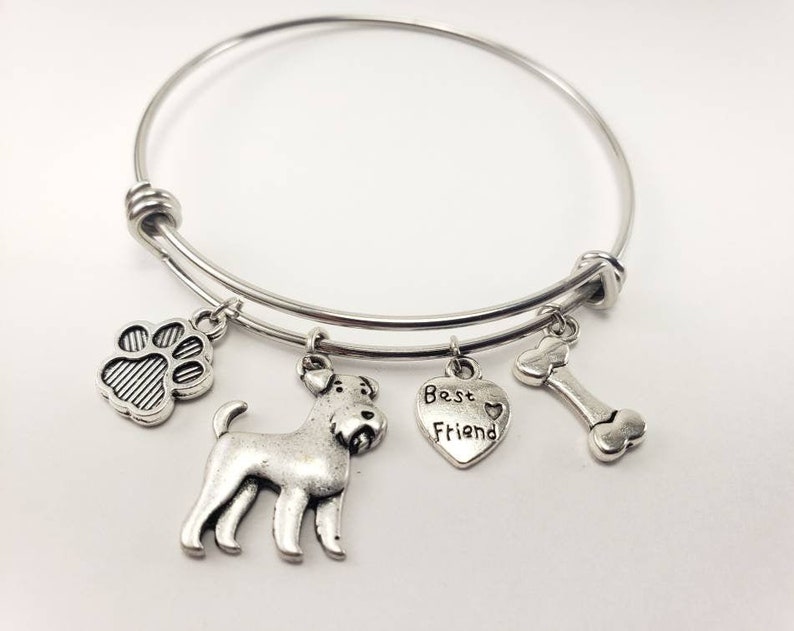 Do you know what would look great with your everyday wear? This stainless steel Schnauzer Charm! Show off your love for your four-legged friend by flaunting off your brand-new dog bone charm bracelet.
It does not only have your favorite Schnauzer pup on it, but it's complete with all things canine – a paw, bone, and a best-friend tag! Bring the spirit of your best-friend in everything that you do through this bangle charm accessory.
Schnauzer Mugs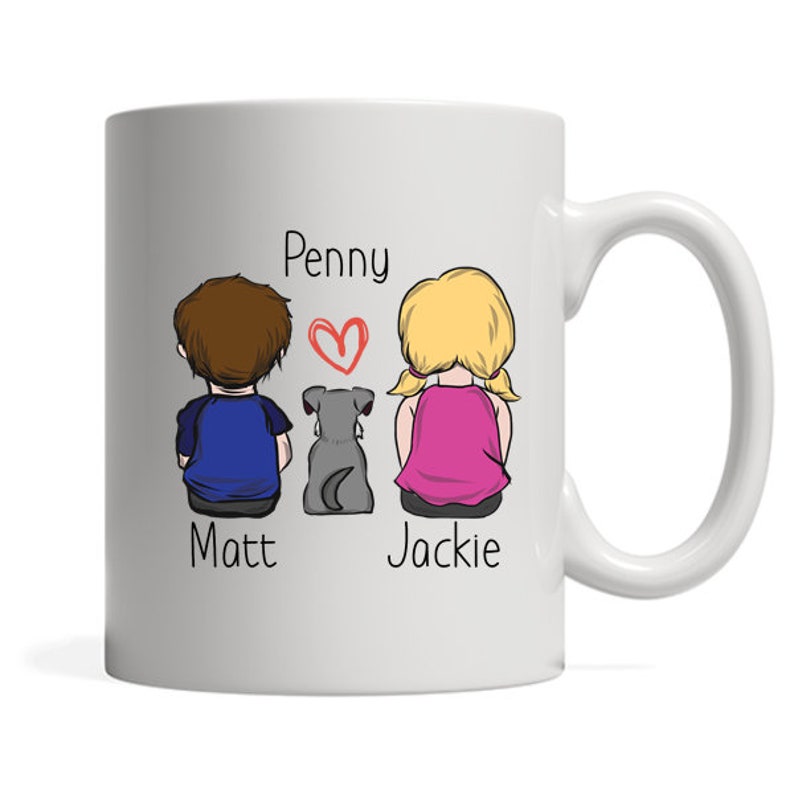 Mornings are not complete without a cup of coffee with your partner-in-crime and your four-legged canine, so why not have this personalised Schnauzer coffee mug? Enjoy breakfast with your two favorite creatures on earth! You can have the names printed on the cup to get the complete experience.
If you're planning on giving this to somebody, expect to see a huge grin on their faces! A practical and cute surprise to someone you love.
All I Care About Is My Mini Schnauzer Coffee Mug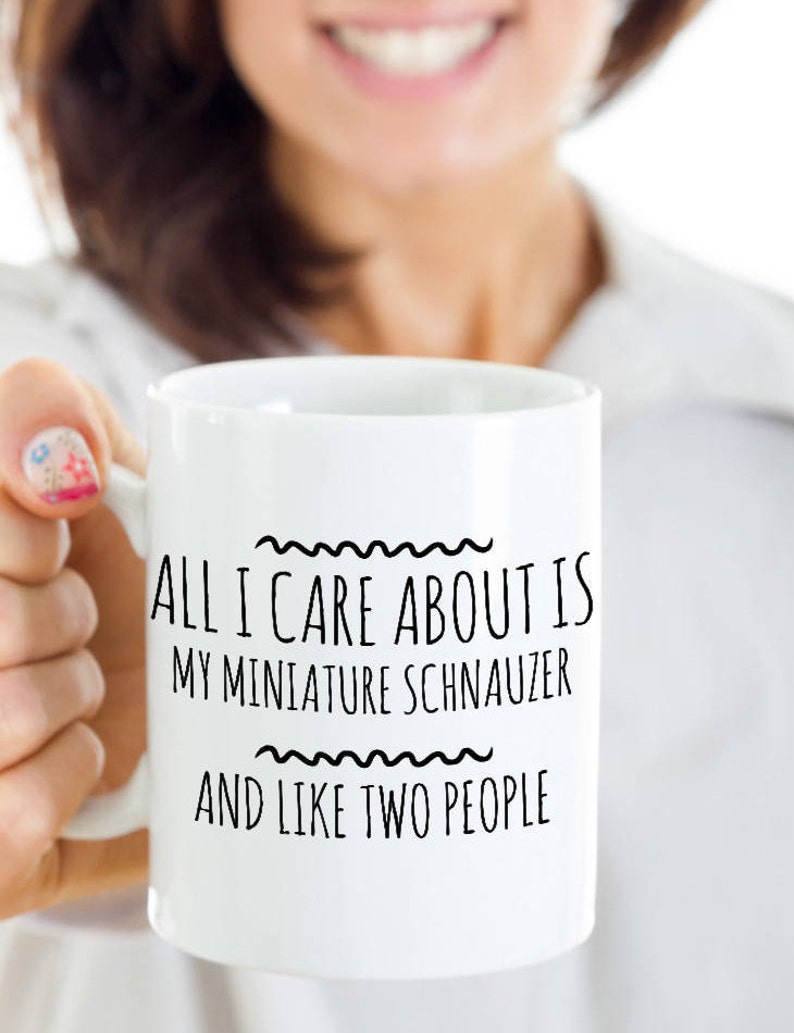 There are billions of reasons why dogs are waaay better than humans, and there's no other gift that can show how much you love your Schnauzer than this clever coffee mug.
Besides, if you're living with two other people in your apartment home, then at least they know you love them as well. Not sure if this mug is recommended if you live with three or more people though – just kidding!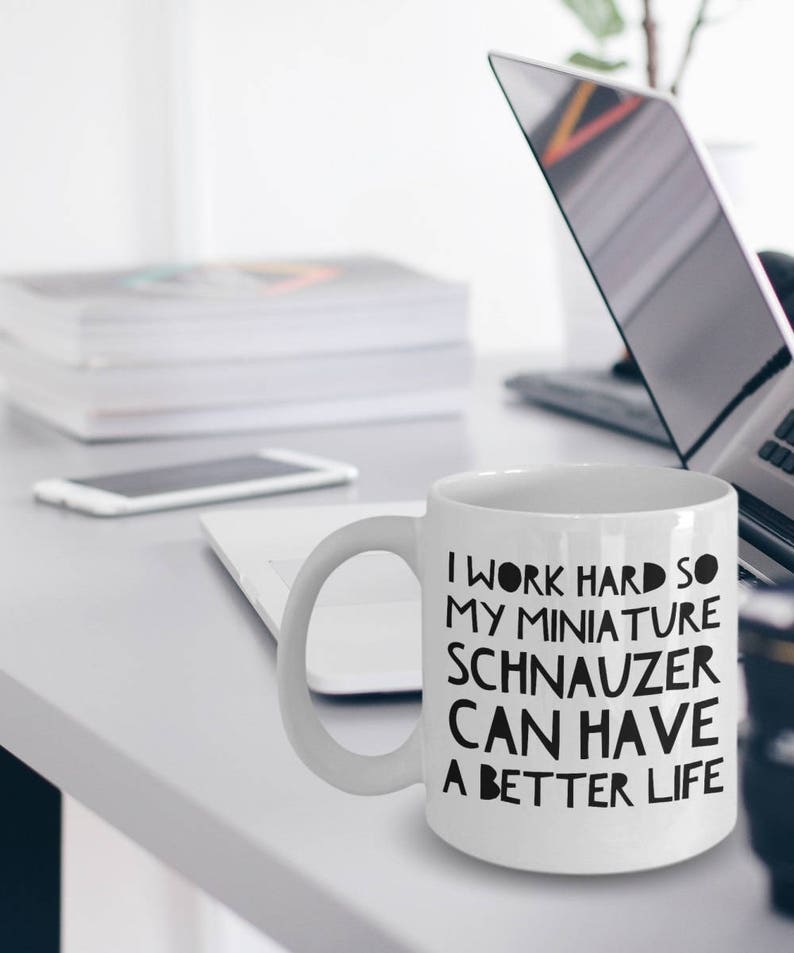 Fur moms and dads also have their motivation for working hard, and that's because of their fur babies! Just like with other breeds, Schnauzers also love to be spoiled.
Make this cup your daily motivation as you sip your first drink of coffee in the morning. After all, our pets deserve ALL of our attention for being a good boy, right moms and dads?
Sometimes An Asshole Coffee Mug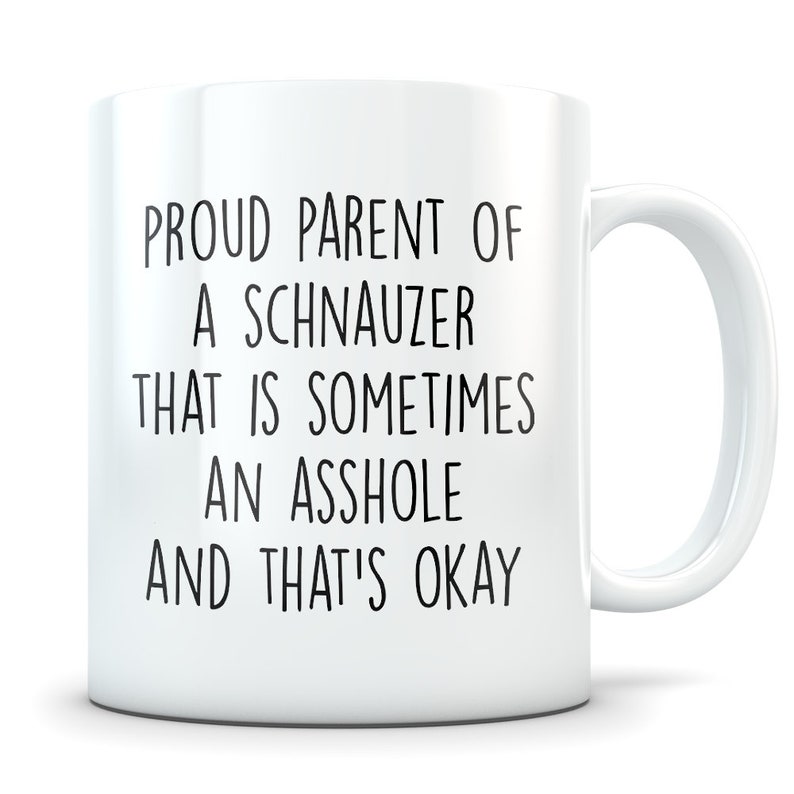 While it's true that Schnauzers are one of the smartest dog breeds, it's also the reason why they can sometimes be an asshole. Nonetheless, we still love them to death.
Their clever characteristics are what makes us want to love them more! Get yourself this kick-ass coffee mug to show how much of a proud parent you are to your little rascal.
Schnauzer word art
Show you appreciate your Schnauzer by hanging this on your living room wall or securing it on your cabinet for display. It's simple, but a guaranteed eye-catcher for guests. You can have the design in any colour you want AND you can have it personalised in a variety of styles.
Surprise any Schnauzer lover with this word art canvas, it's a special memento that's going to brighten your home for years. What's more, you can have the words customised to the name of your pup, his favorite treats, and go-to activities!
Angel Black Miniature Schnauzer Art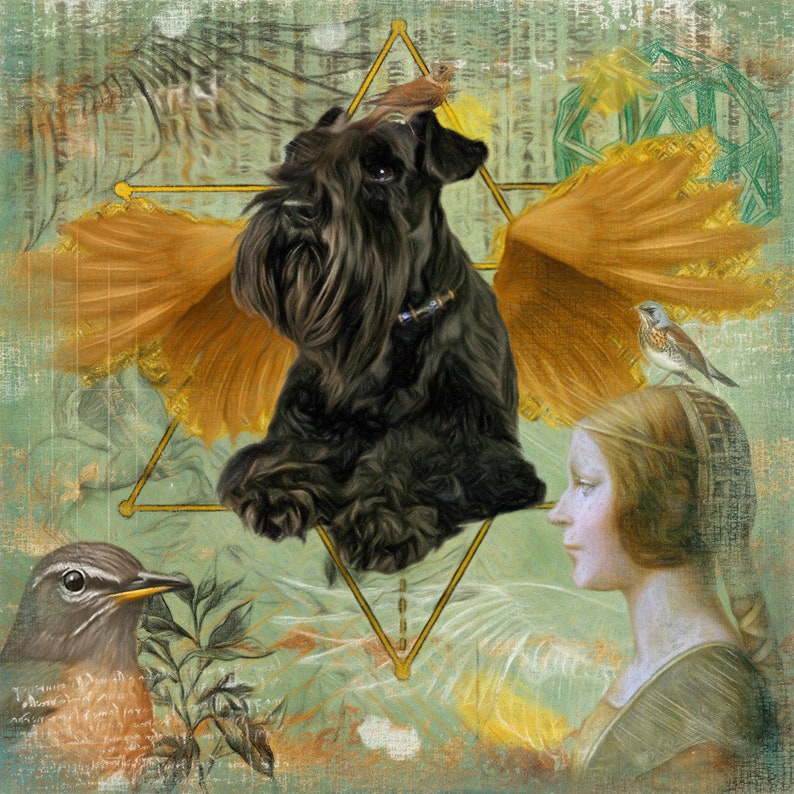 Even though they can be a little naughty at times, they are still angels in the eyes of Schnauzer owners. This digitally printed "Da Vinci Angel" canvas art blends in on any interior, whether it may be for your office walls or apartment space.
If your friend has recently lost a Schnauzer, this makes a beautiful dog memorial of the miniature Schnauzer who once lived life to the fullest.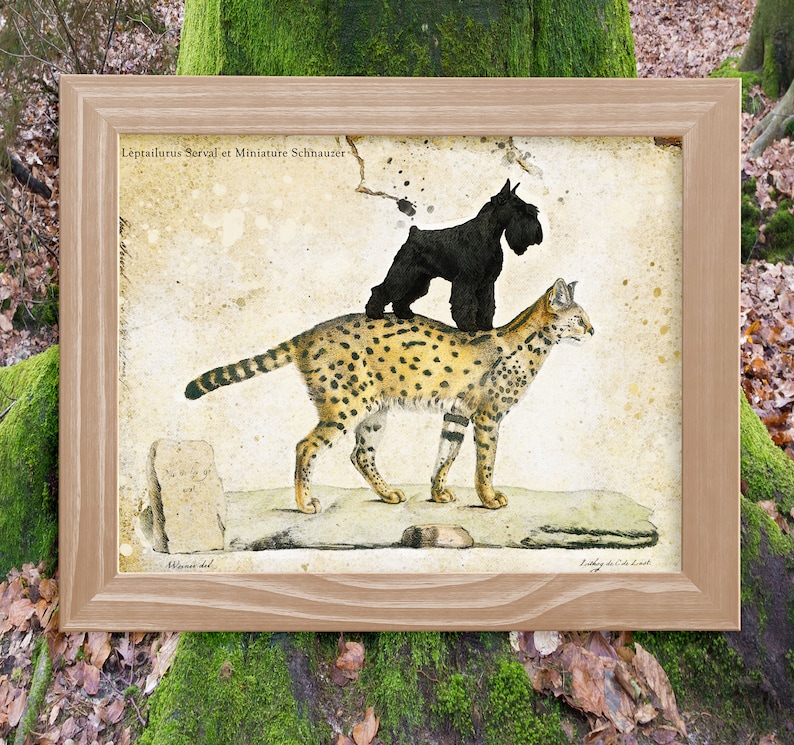 Weird, quirky, and amusing – this digitally printed canvas is a guaranteed head-turner for guests. It's a great way to stir up conversation with family, friends, and even clients.
It uses watercolor heavy-textured matte fine art paper to ensure quality, the print lasts for lifetimes. Meaning you can pass this on to future generations, keeping the love and spirit for Schnauzers alive.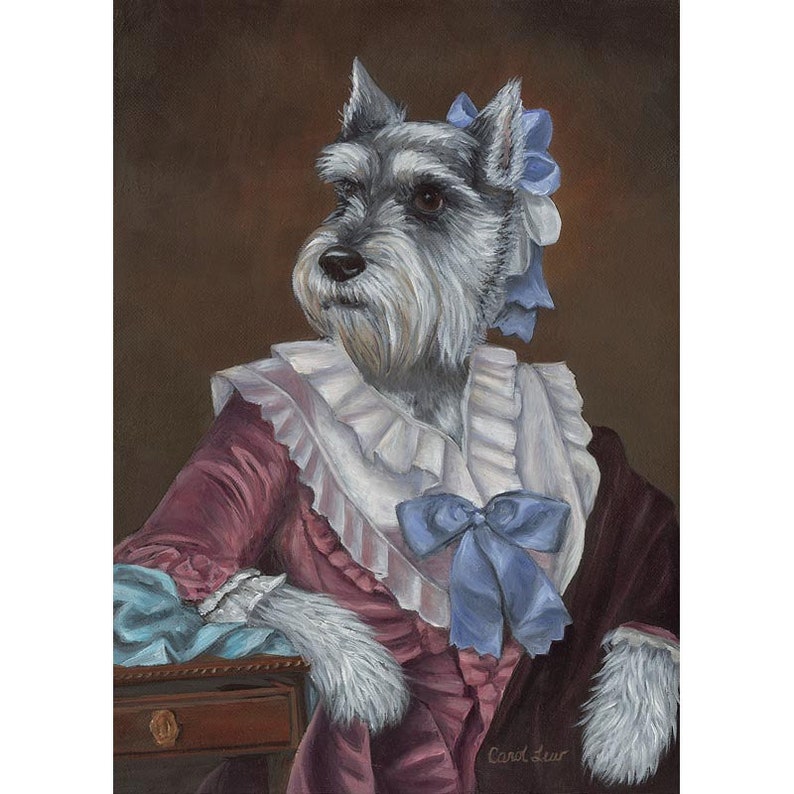 Have you seen a Schnauzer dressed up in a historical fancy dress? Well, it's definitely a sight to see! John Singleton Copely, a well-known artist in the 1700-1800s uses this comical style of painting to bring laughter and happiness to friends and family.
Keep your home in a happy place by hanging this unique Little Miss Sydney Schnauzer on your wall. It's funny, amusing, and original – one of THE best digital art canvas you can find on the internet.
Tags: Schnauzer Gifts