Personalised Garden Gifts
Gardening reaps a ton of benefits, aside from the fact it produces delicious and healthy harvests for your meals, but it also builds self-esteem, strengthens your heart, and reduces stress.
Some individuals do gardening because of the emotional benefits it provides rather than survivability. It's a productive hobby to have and it beautifies the home.
Here are the best personalised garden gifts you can purchase to complete your living space:
Gardening Tools Essentials
Get This Sturdy Trowel and Fork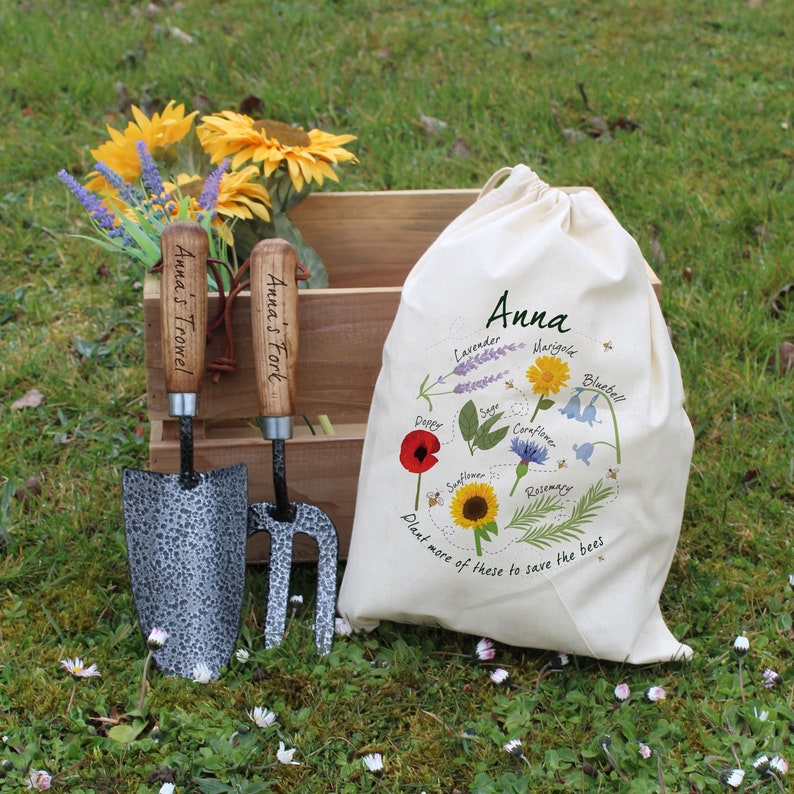 If you're surprising someone who loves gardening, they're going to fawn over this customizable trowel and fork set. You can have your special someone's name beautifully engraved on the handles, giving them a sense of ownership.
This comes together with a convenient drawstring storage bag to keep them good as new after usage. The set is made out of high-quality carbon steel, assuring you it's going to be a trustworthy companion for many years to come.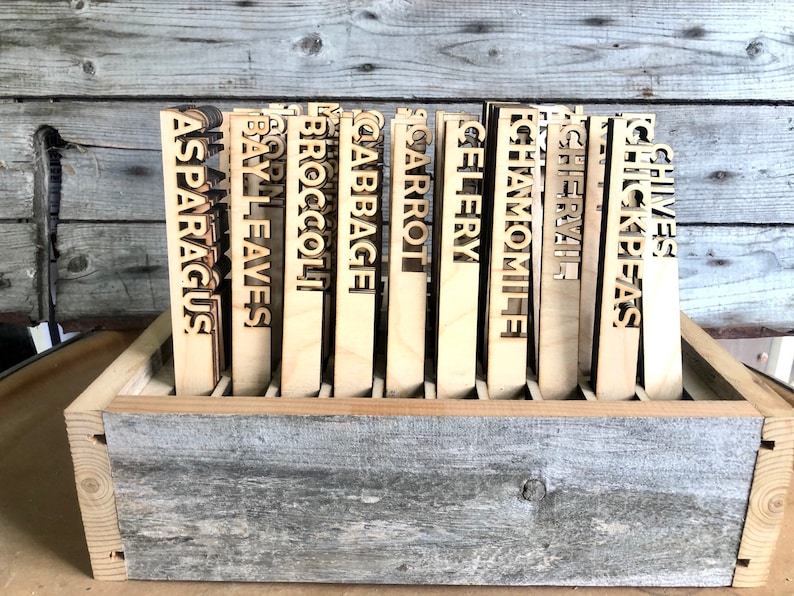 Surprise them with a set of attractive plant tags to beautify their gardens. It makes sorting plants easy and adds charm to the whole yard. This has your favorite herbs, flowers, and vegetables engraved on quality mood.
You can have the names customised if anything is missing from the exiting list, bringing out the best of any garden. The wood is cut by a laser for precision and neatness.
This Cool-Looking Florist Garden Belt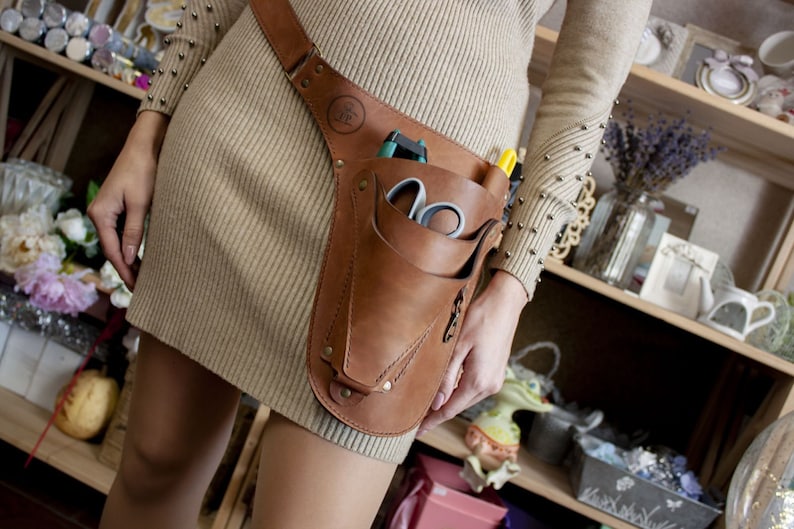 Gardeners have *A LOT* of essentials they need to be carrying around when gardening. Save them the hassle by surprising them with this convenient garden belt tool belt.
This comes with a generous amount of compartments for pliers, nippers, and many more. What's more, you're going to love its removable pocket intended for your floristic knife. It is made out of thick leather for durability, so you can have it by your side for a long time!
Personalised Garden Pruner Secateurs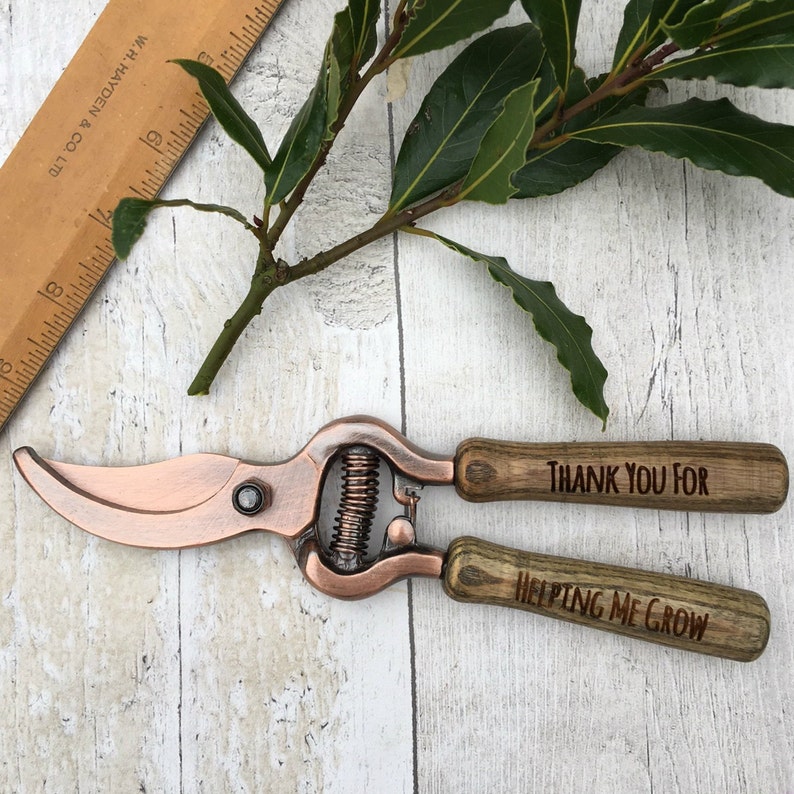 It's extremely elegant, stylish, and it gives off that classic vibe to it. Prune your garden roses with the use of these babies, it's made out of copper-plated carbon steel for longevity and durability. You're going to fall in love with its well-made ash wood handles, which gives you a good feel.
You can have the words on the ash wood handles personalised, making it a perfect birthday gift, anniversary surprise, or for personal use. Besides, engraving names ensures no one else walks off with these garden pruner secateurs!
Give them this pair of personalised gardening gloves where one size fits most, so you don't have to think about if whether it fits the receiver's hands or not. It's available in mint, aqua, and coral colors – choose their favorite color OR select the ones you believe suits them best.
Words are fully customisable, write their name or a special nickname on the gloves. You can have the lettering colors in royal blue, light pink, mint, or black.
This makes an excellent mother's day gift or a father's day gift for parents who are in tune with the plants.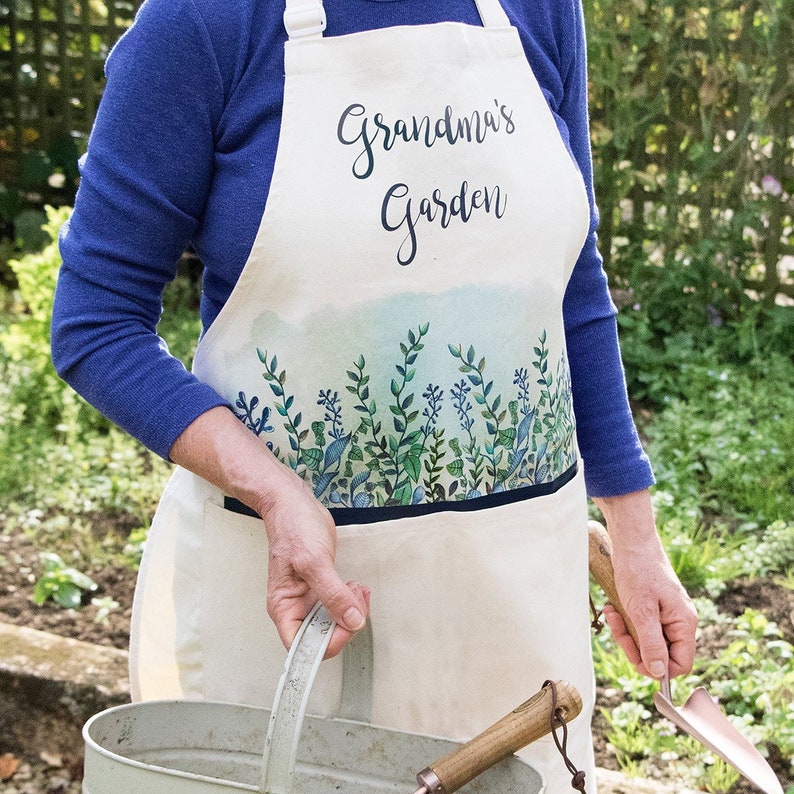 Gardening is often associated with getting down and dirty, but you don't really have to by using this beautifully designed garden apron. It boasts an attractive flower decoration on the front and it does its job well in keeping you from getting muddy you're planting.
It's made out of premium canvas to guarantee longevity, which also makes it a keepsake you can have for decades. Take advantage of the pockets sewn on the front so you can conveniently store bits and bobs that come with gardening.
Gardening Signs and Canvas
Chalk Style Beer Garden Metal Wall Sign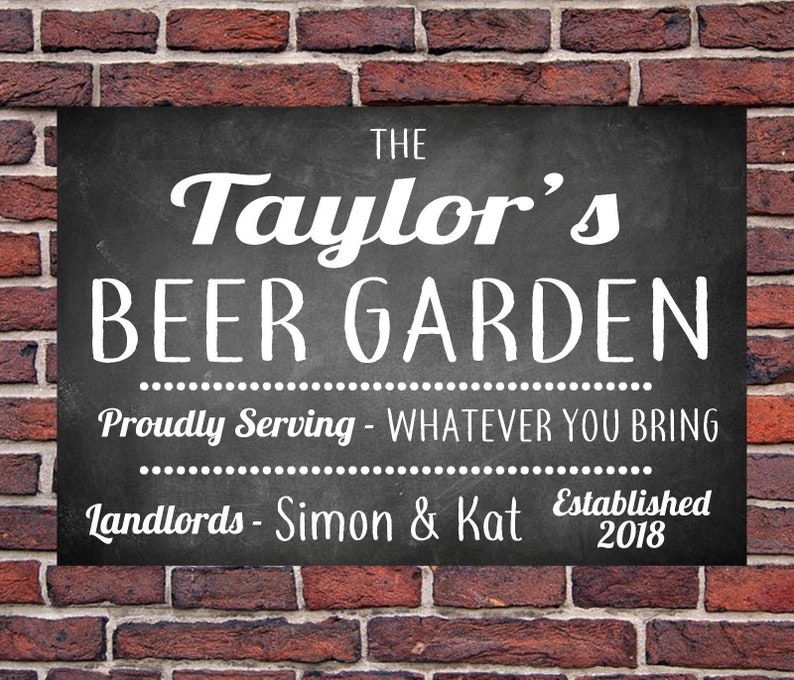 For those who have a beautiful garden where your friends hang to play cards and drink beer, this comical handmade bar sign is going to set the mood perfectly. It's a simple, straightforward sign that's bound to get a few chuckles from friends and family.
This is 100% waterproof, so you have absolutely no worries about leaving it outside regardless of weather conditions. Have the names, dates, and words personalised, so you can proudly hang it on your garden OR surprise a gardener on their birthday!
A Place for Pollinators Canvas Garden Flag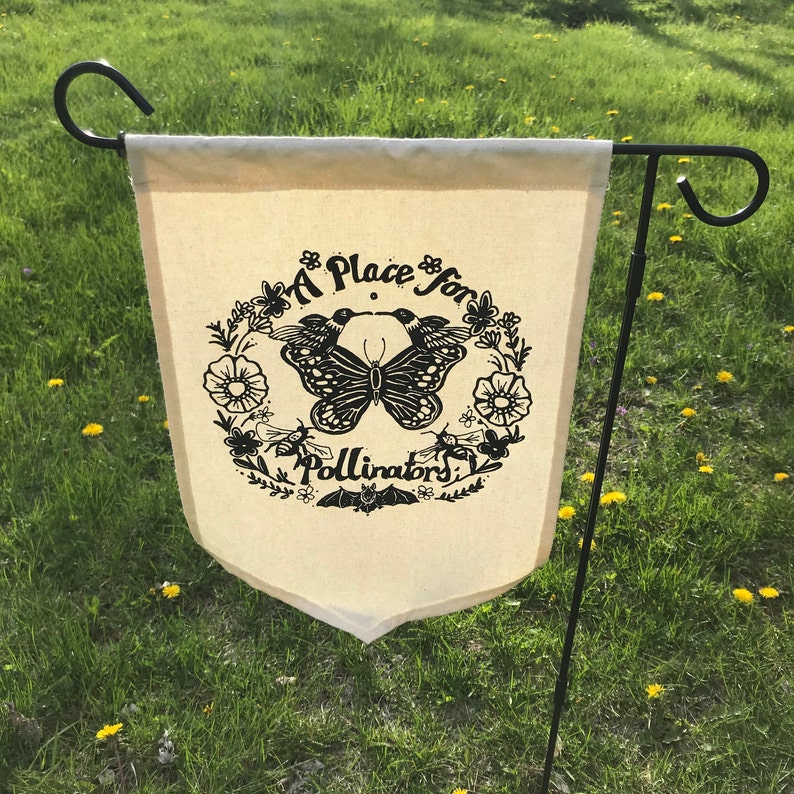 A garden would not be a safe haven for pollinators without putting countless hours of work. Therefore, you have every right to flaunt off this timeless pollinator flag to everyone. Let your friends, family, and neighbors know the significance of your garden to inspire them to start their own as well.
This is twelve inches wide and eighteen inches long, so it fits perfectly in standard flag poles. Make sure to waterproof this first before using it outdoors as it's made out of natural fiber.
This Simple Gardening Word Art for Gardeners
You know what they say, keeping it simple is the way to go – and this attractive-looking garden word art hits the spot. Whether you're planning to hang in your room, office, or living room, it blends well in any interior.
Change the colour, text, and font to your preferred design. This is such a wholesome gift to surprise your loved one with as you can have the words changed into their favorite plants, shrubs, and flowers!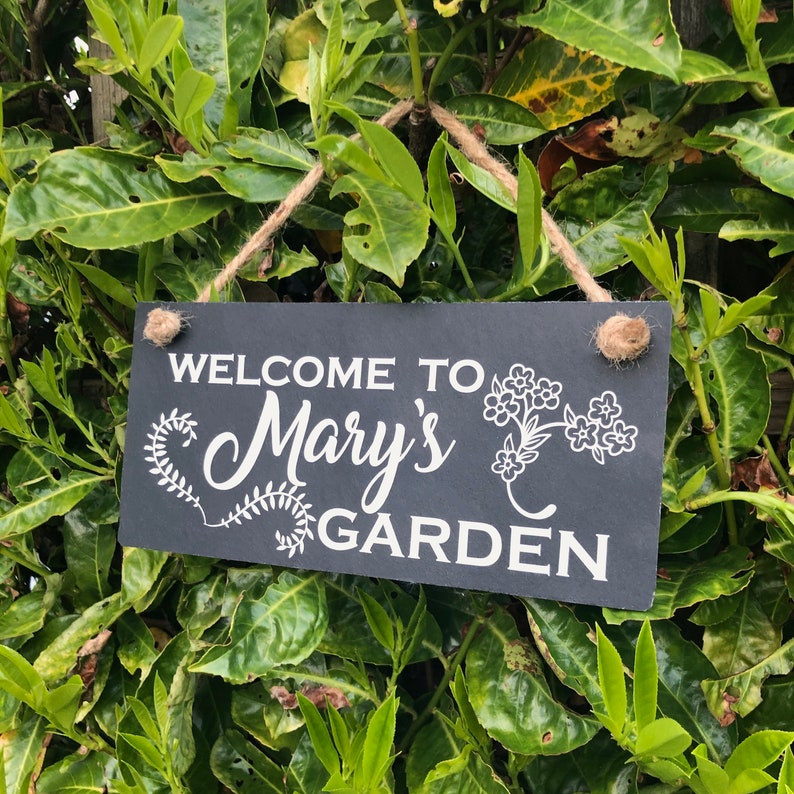 Give your visitors a warm welcome by giving this simple, but gorgeous garden signage. This rustic slate sign adds beauty to any garden with its classy appearance, one you would find in movies!
Your personalised wordings are waterproof, making it ideal for outdoor usage. This also saves you the hassle of keeping it in the best condition during undesirable weather.  If you're looking for a simple, but useful gift to your green-thumbed friend, this fits the bill.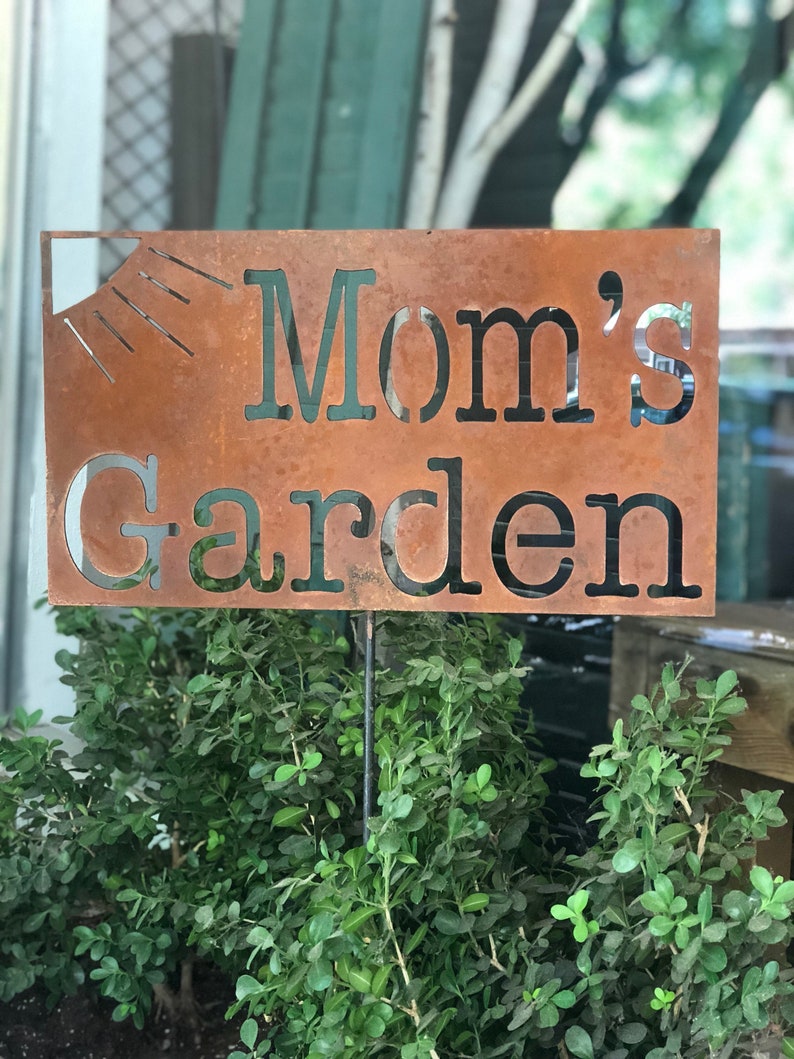 Moms seem to have a talent for gardening, whether it's something they're good all their lives or they've magically accumulated this skill as soon as they become mothers, we can all agree that their garden gives off a different, homey vibe.
This is uniquely handcrafted from a hot rolled steel, giving that rustic and classy look. You have the option to have it personalised with your mom's name as well. Or you can have it changed to Grandma's, Grammy's, Dad's, and Poppy's! The possibilities are endless, it's a perfect gift for any occasion.