Personalised Scottish Gifts
When you talk about the best and most beautiful countries in the world, Scotland will undoubtedly be part of that conversation. From its beautiful sceneries, rich culture, down to its kind and gentle citizens, Scotland is certainly a place to add to your "Places to visit" bucket list.
Because of its beauty, those who have had the chance to visit Scotland have seen all of its glory and most likely love all of it.
If you've got a beloved that is crazy for Scotland, we've got the perfect selection of personalised, Scottish-themed gifts that we are sure your loved ones will like.
Scottish-Themed Clothing 
I'm Not Angry, This Is My Scottish Face
You may be wondering, "What does anger have to do with the Scottish face?" well that's simple, throughout History; Scottish people have always been known to be brave, courageous, and stubborn. But make no mistake; Scottish people are one of the kindest people in Britain.
This t-shirt is a very funny way of presenting that brave and courageous vibe. It also states that just because one looks angry, doesn't mean they are, it might just be a habit.
The shirt comes in Men's, Women's, and Youth's fit and is available in Navy and Royal blue.
Glasgow is Scotland's largest city. It has a population of around 600,000. It is home to over 100 cultural and artistic organizations, including The Scottish Ballet, Opera and Symphony Orchestra. It is home to many of Scotland's leading businesses, making it one of Europe's top financial centers.
This shirt's design is reminiscent of the famous rap album "Straight outta Compton", with a deep Scottish accent twist. This shirt will display one's love for the great city regardless if they are actually from it or not.
The shirt comes in various shades of blue and is available in men's and women's sizes.
Who says men can't flaunt skirts? Not Scotland
Kilts have been around Scotland for a long time. They are a symbol of patriotism. The word 'kilt' is a derivation of the ancient Norse word, kjilt, meaning 'pleated'.  It refers to clothing that is tucked up and around the body.
The shirt's design is a funny way of displaying your love for Scottish culture. Your beloved will surely find this shirt amusing and will surely love it.
The shirt is available in many different colors and sizes. Get it now!
Scottish-Inspired Gifts
There is nothing that resembles the Scottish theme better than a Bagpipe. A bagpipe is musical instrument with reed pipes. It makes a sound by squeezing a bag. Bags are commonly associated with Scotland, but are also used in folk music in Ireland, Northumberland, and France.
If your beloved is addicted to the Scottish culture and knows how to use one of these bad boys, then it is the perfect gift for them! If they don't know how to play it, don't worry, it makes for a great home décor.
Scottish fans or not, most of us have seen this design at least once in our lives. It's the pattern we see on the kilt and bagpipes. The pattern is called Tartan.
If your beloved loves Scotland and its rich culture, she will surely love this gift; a tartan scarf to keep her warm. It also makes for a lovely shade during the hot days of the summer.
You can add a customisation to this scarf up to three characters. This our personal favorite among the listed gifts. Get one now while you still can!
This takes the phrase "Dress to kill" to a whole new, elegant level.
To put in simple words, The Sgian-Dubh is a small, single-edged knife worn as part of traditional Scottish Highland dress along with the kilt. It is tucked into the top of the kilt hose with only the upper portion of the hilt visible. However, since Sgian-Dubh was originally used for protection, hunting, and cutting materials, the historical Sgian-Dubh would have been a simpler knife.
This gift will surely make any Scottish fanatic happy. It is a well-balanced mix of elegance and bravery. I mean really, it takes a great amount of confidence to wear a weapon.
Canvas Print Scottish Gifts
Anyone who has visited Scottland goes there with but curiosity, but leaves the nation with nothing but love and blisful memories. No one would argue when we say Scottland is synonymous to Love, it's a beautiful place that calms the mind with its tranquil and beautiful scenery.
Give your special someone this lovely Scottland heart word cloud, you can have the text customised to your favorite places in Scotland. What's more, the color and font are fully customisable as well.
Hang on your wall, put it on your work desk, or surprise it to someone you've travelled with. This is THE perfect gift for friends and family.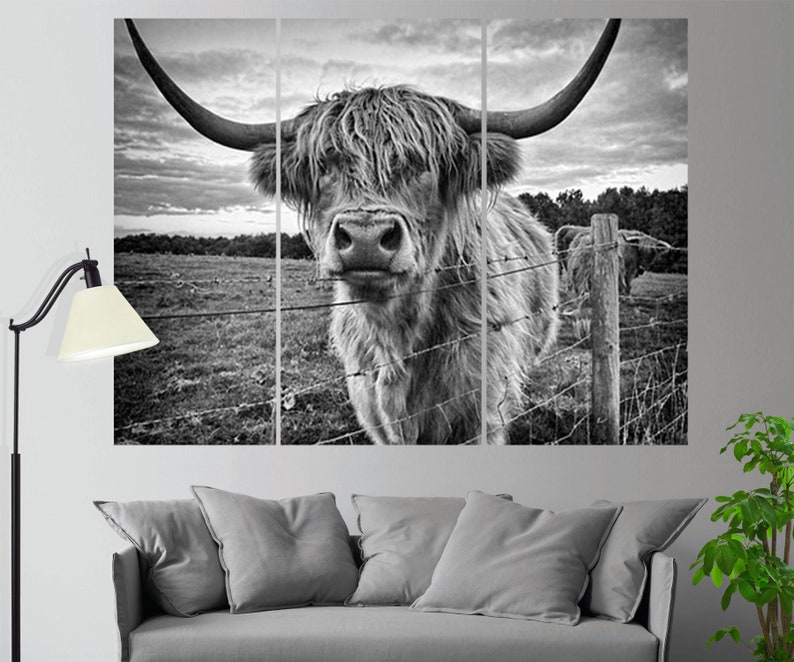 If you're looking for a present that represents your beautiful memories in Scotland, this Cow Canvas art seals the deal. It's the ideal centerpiece for your home, apartment, or office spaces. A center of attraction for guests and clients, making it the ultimate present.
You have the option of personalising it from 1 to 5 panels, depending on which one you prefer the most. Display it on your wall with pride – after all, Scotland is arguably one of the best nations to live in.