Personalised Wedding Gifts
Weddings are one of the most special occasions that one experiences in their lifetime. It is a majestic ceremony where two people who are in love with each other are united and become one. It is a formal union and social and legal contract between two individuals that unites their lives legally, economically, and emotionally.
You probably want to get something for your newly-wed relative or maybe a very close friend. You're in luck; we've lined up all the wedding gifts that are perfect for the occasion. All these gifts are certain to make the couple very happy.
Couple Clothes
Even the simplest messages give off the most touching vibe. A shirt that plainly says "I love my husband" or "I love my wife" would be a perfect gift for any newly-wed couple out there.  
This statement shirt will be perfect for any and all couples because it's the most important message exchanged between two people. It lets reminds them of how much they love each other.
The sizes of the shirt range from small to extra-large. If you happen to be a new buyer, they will give you a coupon for free! Get a pair now!
The date when the couple made their relationship official will always be both special and unforgettable, which is why this design will be great for couples! This shirt will take them back to their younger days filled with all kinds of crazy memories and tell them that they've come so far.
The couple you want to bless with a gift will be more than happy when receiving this shirt. It will always remind them of that very special day they became one. They will surely be grateful for this gift. You can choose where you put the design of the shirt, as well as the sizes and what kind of sleeves the shirt will have.
Wedding-Inspired Gifts
One of the most important moments of any couple is when they wake up and have breakfast together, or maybe a late afternoon snack. This is why this mug is a perfect gift for them.
This mug will remind them of their commitment to each other as well as how their love for each other must be never-ending. Every breakfast and snack time they have together will be special.
You can choose your personalised details for the mug and you can have the couple's names printed on it as well.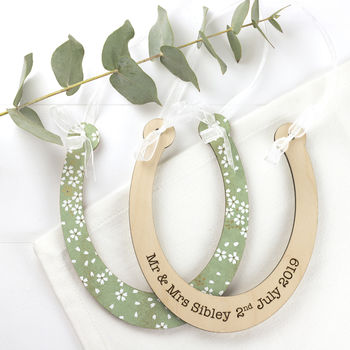 In the early Celtic traditions, brides would sew a horseshoe into the hem of a dress for good luck. In Scottish culture, a page boy will present the bride with a silver-colored wedding horseshoe as she leaves the church. They are traditionally given as a bridal gift or sometimes as wedding favors to commemorate the wedding day for the couple
All in all, this is a beautiful gift for the newly-wed couple. The personalised horseshoe comes in ribboned, ready for hanging which will co-ordinate with your chosen paper, and also with a presentation a gift box.
Wedding Prints Presents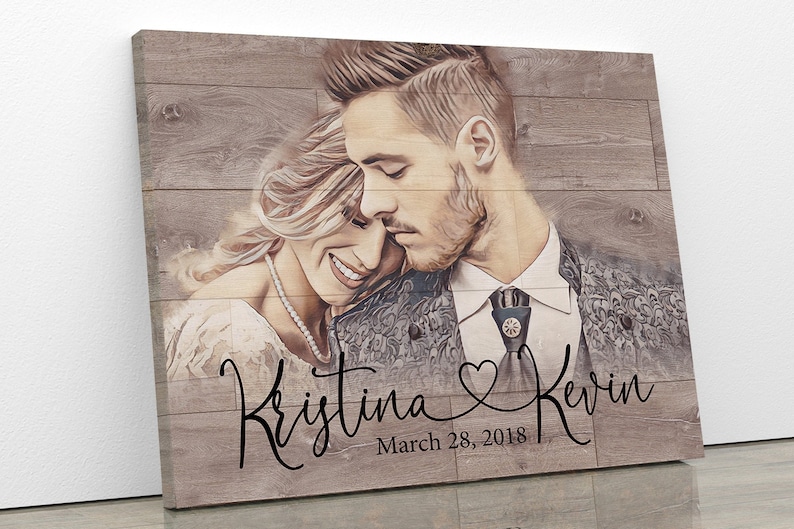 There is nothing more romantic than being greeted with the image of the one you love. This portrait will be a vivid symbol of the couple's love for each other.
This art print is a great addition to the newly-weds' household. It will be the perfect living room or bedroom décor.
You can choose the size of the design of the portrait, as well as the material it will be printed on. This will a memorable gift for any couple.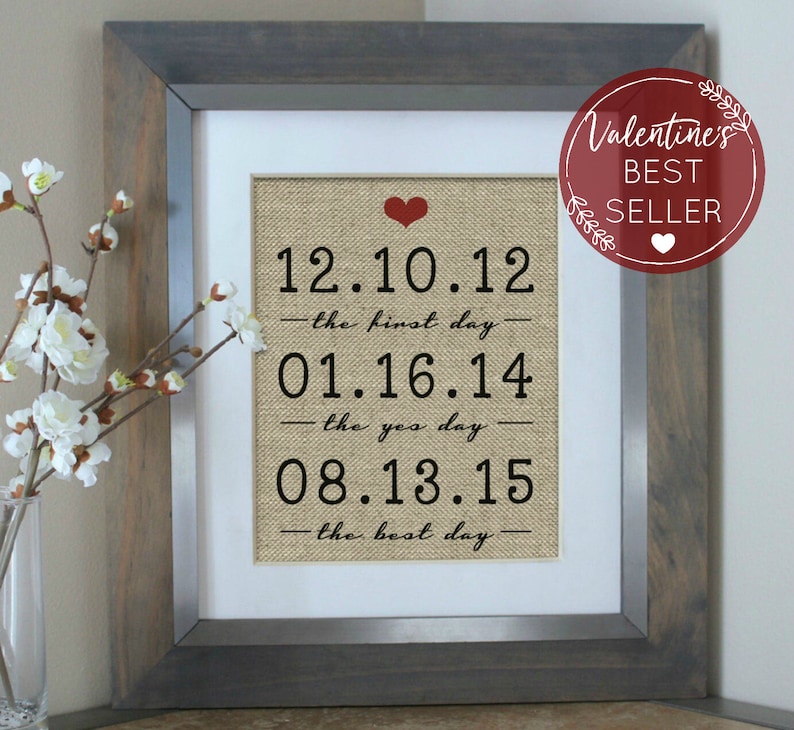 There are three very important dates in every relationship; the first day their relationship started, the proposal day, and the day of marriage. These dates are undoubtedly the most unforgettable in a relationship.
This gift features all the three dates mentioned above and puts them together in a beautiful, minimalistic design. You can put the names of the couple in the design as well as any other personalization you like.
This gift will be a very special addition to the household and will remind them of the good old days where it all started for them.
Personalised Horseshoe Word Print
Looking for a present for the newlyweds? Surprise them with this personalised horseshoe word print as a present. It's a simple gift for the married couples, but it's the kind of present that lasts a lifetime. This makes an ideal housewarming surprise, it fits perfectly on bedroom or office walls. Or you can have it displayed in the living room cabinet.
You can have the text customised to your special message, as well as the font and colour. The sky's the limit to what you want to do – you can even have your favorite moments with the wedding couple printed on text!