Celebrating your parents' 60th wedding anniversary is a special occasion, being together for six decades entails a marital journey only a few couples can achieve. The 60th anniversary is represented by a diamond, which is the hardest rock on earth, mainly because it conveys how strong their marriage foundation is.
Couples celebrating their 60th wedding anniversary are usually in their 80s-90s, indicating both of them have lived a long and happy life through their lifelong companionship.
We've listed memorable anniversary gifts to give to your parents or grandparents on their big day!
60th Wedding Anniversary Gifts for Grandparents
Where It All Began Throw Pillow
It's always nice to have a reminder in their home of how they started, whether they met at a fancy party or they were classmates in college, this fluffy throw pillow makes the perfect memento for that day.
You can have your grandparents' name digitally printed on the pillow for personalization along with a sweet quote or message. After all, the family clan would not have existed if it weren't for that fateful day.
They can keep it in the living room where it would make a wonderful conversation starter for guests or they can store it in their bedrooms for privacy and discretion.
Time Spent Together Anniversary Photo Canvas
If there's one thing we can't ever take back, it's time. Remind your parents how they were able to spend 60 beautiful years together through this anniversary photo canvas. In their 60 years of marriage, they have made every moment count.
Personalise any photo, have the names of your grandparents and anniversary date printed. They'll calculate the year, number of months, and days depending on your anniversary date.
You can have the bottom of the canvas personalised with your message or a special quote to make it even more memorable.
Our 60th Anniversary Quarantined 2020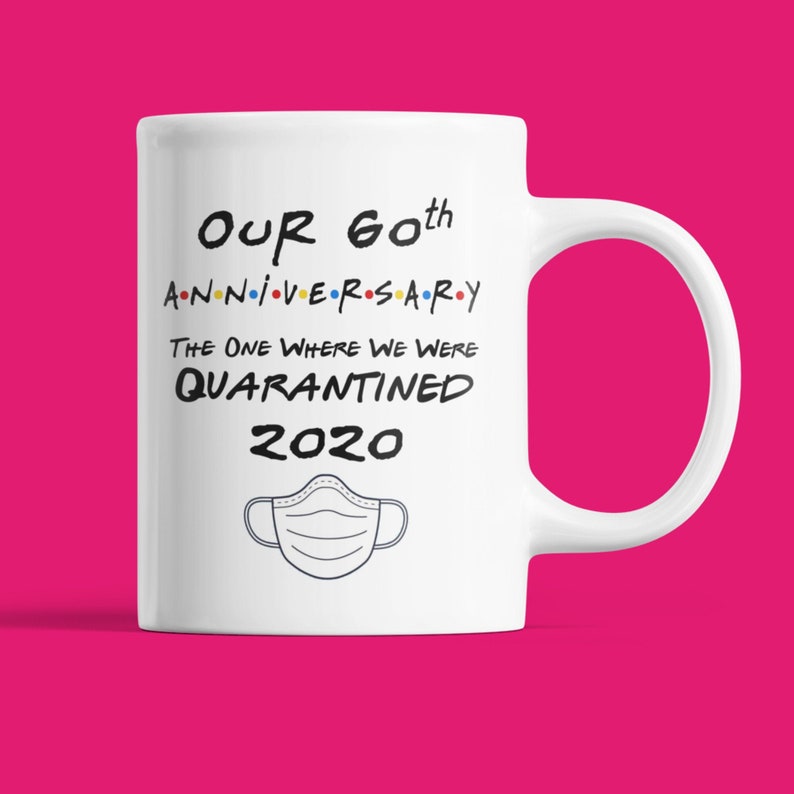 Your grandparents may have celebrated 60 anniversaries, but their celebration in 2020 is probably the most memorable one as it's the only anniversary where they are quarantined!
Surprise them with this clever anniversary mug, they're going to love this comical present, which they can use to drink their morning cup of tea.
This Elegant 60th Anniversary Keepsake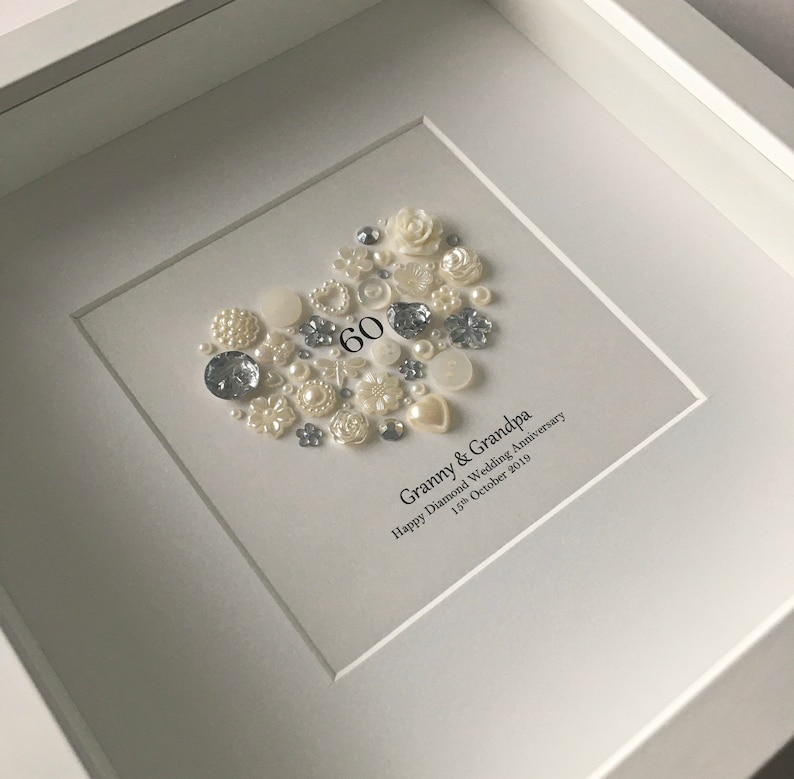 Their 60th anniversary present should be simple, classy, and stylish, which makes this elegant keepsake a treasure to give for your grandparents.
It's made out of quality buttons and embellishments handpicked to complement one another. You can write down your personalised message or quote on the memento as well.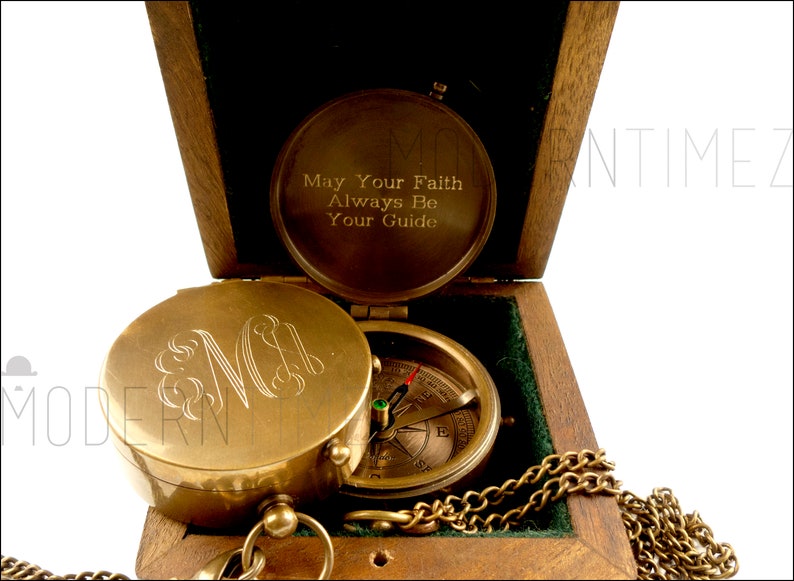 Surprise them with this personalised brass compass, which signifies the journey they went through together as a couple. It's the perfect anniversary gift for your grandparents who have journeyed a large portion of their lives together.
Every piece of the compass is unique, it comes with its own charm and character, making it a family memento your grandparents can pass on to the next generation. Have their initials engraved on the brass compass or leave a special quote or message on it.
A Simple 60th Anniversary Word Art
Keeping it simple, keeping it real – this 60th anniversary word art is exactly what you need. This cute canvas is something your grandparents will adore, it's fully customisable with a variety of styles available. You can have the word, color, and font personalised depending on your preference.
Have the names of your family members, places they have traveled, or activities they enjoy doing printed on the canvas. This looks beautifully hanged on the wall or displayed in the living room's cabinet.
Scented Candles Anniversary Gift
If there is anything grandparents need, it's a good night's rest. Surprise them with a box of quality scented candles, it comes with four aromas, such as French vanilla, lavender, Rosemary, and Freesia.
Celebrating a family dinner for their anniversary might be a fun and wholesome activity for your grandparents to partake in, but they also need to recharge after the event. This is a practical 60th anniversary present that will bring them a well-rested body and calm mind.
Funny 60th Wedding Anniversary Gifts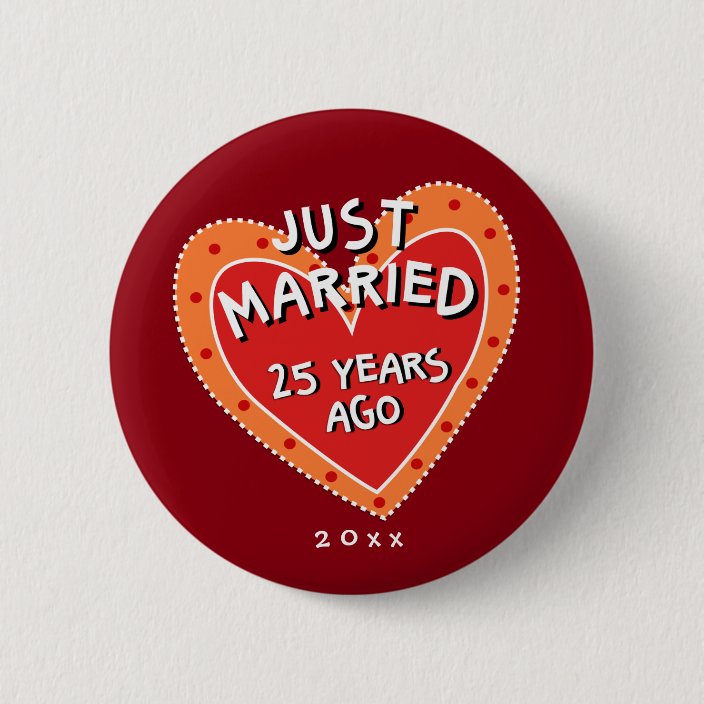 Surprise your grandparents with this Just Married 60 Years Ago pinback button. They can wear it on the anniversary family dinner, making it easily the center of attention for dinner conversations. It's simple, comical, and hilarious. This small keepsake creates a big impact, whether it may be for a night or for many years to come.
It Took 60 Years Classic Trucker Hat  
Only men who have stayed committed in their marriage for 60 years can rightfully wear this hat with pride. Surprise your grandpa with this witty trucker hat for his anniversary, you can bet he's the only in the family who proudly use it in family outings or dinners. Unless the grandma decides to take it from him, of course!
He Still Puts Up With Me Shirt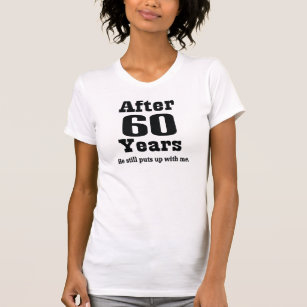 Your grandmother is going to rock this shirt with pride and ownership, while your grandfather's going to roll his eyes in amusement. It's a simple white T-shirt that only very few women can have the privilege of wearing it – after all, there aren't too many men on earth who can put up with their woman for six decades, right?
I recommend buying this together with the Trucker hat, these two would make the perfect combination for their 60th wedding gift.
It's cleverly designed and the text speaks volumes for long-time married couples. This is a simple gift for couples who never forget to incorporate jokes and gags into their relationship. If your grandma and grandpa are certified jokesters, they're going to LOVE this mug.
This Hilarious Apron for Baking
If both of your grandparents are still pretty active in cooking or baking, gifting them with this comical superman and superwoman apron is a MUST.
Have them wear this on their 60th anniversary as they prepare the desserts for the family dinner. In any case, no one can really argue when they say they're superheroes, achieving 60 years of marriage puts them a tier above Superman any day!