If you've been alive up to this day then you may have heard the name Elvis Presley at least once. There is a reason why he is called "The King of rock and roll". Elvis Presley is considered to be one of the G.O.A.T. or "Greatest of all time" in the industry of music. His style, range, repertoire, influences, and image adapted in nearly all phases of the 50s music industry.
Because his music is one of the all-time greats, Elvis Presley has fans both young and old. So if you are planning on getting an Elvis fan a gift, then we have the best line-up to choose from for you.
Elvis Presley Shirts

Elvis Presley was a wild breakthrough in the industry of music. With a lot of #1 singles and countless gold and platinum albums, Elvis helped popularized rock n' roll in America. He was one of the very first people to have been inducted into the Rock and Roll Hall of Fame (1986).
This shirt would make a great gift for any Elvis fans alike. The shirt is designed with the face of the superstar himself and his name written in bold red. The shirt comes in different sizes.
Vintage Elvis Presley Sweatshirt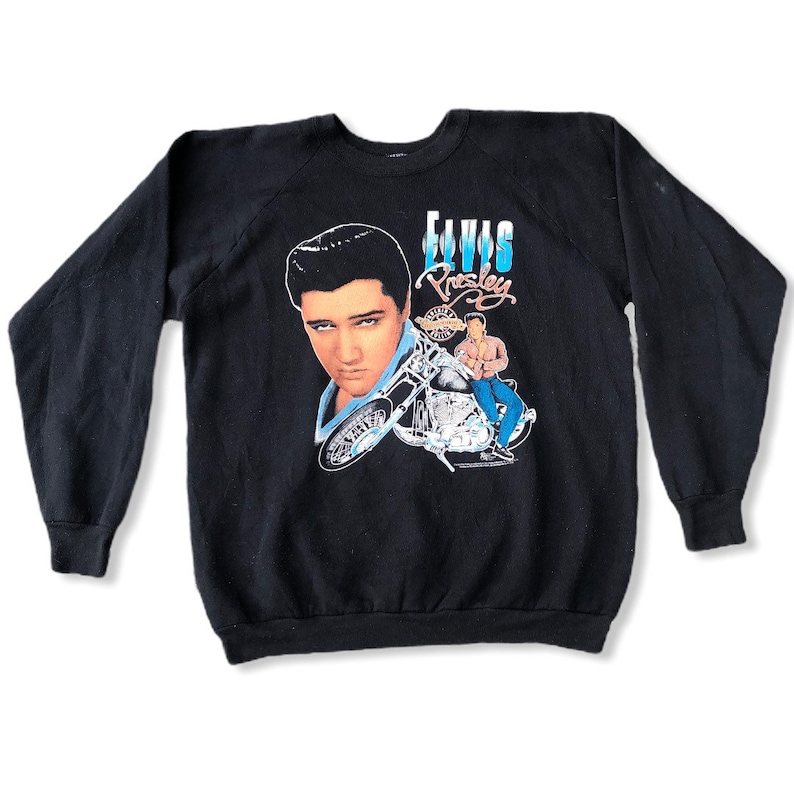 Rainy season? Cuddle weather? Warm yourself with this stylish Elvis Presley sweatshirt. It gives off that vintage vibe, taking you back to the 1950s and 1960s when Elvis Presley reigned with his songs and performances.
It's the perfect sweatshirt to wear whilst drinking a hot cup of cocoa and listening to the King of Rock and Roll's music. Made out of quality cloth for comfort, you can wear it all day long as your signature lazy shirt or wear it for a stroll in the park.
Elvis Presley Inspired Presents
Any real Elvis Presley fan would certainly have heard the expression "TCB". It is Elvis's action-man motto which means Taking Care of Business. It also happens to be the name of his backup band. Taking care of business was what he was all about, whether it was on the stage or in the movies.
That being said, real fans are gonna love this TCB tie clip. It is a great indicator that the wearers have a great taste in music. It is also a great addition to any Elvis Presley collection.
Aside from being the maker of one of the most memorable music in history, Elvis was also known for his famous jumpsuit. All Elvis fans will never imagine Elvis wearing anything else when he performs. The jumpsuit was designed by Bill Belew. He was inspired by clothing from the Napoleonic era, particularly the high collars. This jumpsuit allowed Elvis to move around freely without worrying about his clothes getting snagged.
This figurine is the exact replica of Elvis and all his glory. This figurine would be a great addition to any Elvis Presley fan's collection.
Elvis Presley is one of the greatest of all time in the music industry. Elvis has a total of 101 gold, 57 platinum, and 25 multi-platinum album awards from the RIAA. He has sold over 139 million albums units only in the United States, making him the second best-selling solo albums artist of all time in this country, and the biggest selling solo artist of all time. He is in the U.S second overall, behind The Beatles and Garth Brooks.
It is no wonder that Elvis has a lot of fans; roughly 500 million people around the world! This mug states that the owner is the best Elvis fan in the world and that they agree with it very much.
Word art prints have a mix of creativity and meaning within their designs. This is basically your figure of choice made up of many different words such as names, phrases, and other words you might want to put in it
An Elvis-shaped WordArt Print is a great gift for an Elvis fan. The figure can be made up of short messages, song titles, or even names of fellow Elvis fans in the family.  It's a personalised for a hardcore Elvis Presley fan.
An Elvis Presley fan is someone who appreciates great music and great music is just what Elvis has given. Elvis was essentially born for the industry. He picked up a guitar as an 11-year-old in Tupelo, when his mother bought a guitar for him for his birthday. He used that guitar all through high school, and even in his early career.
This guitar is for those fans who aspire to become something like the King himself. The Fender guitar has the portrait of the great Elvis Presley in front. Any real fan of Elvis Presley will surely love this personalized guitar.
Tags: Elvis Presley Gifts