50th Wedding Anniversary Gifts for Parents
Your parents' golden anniversary calls for a special celebration. They spent 5 decades of commitment, bonded by marriage. It's a life milestone only a handful of couples can achieve.
Normally, couples who are celebrating their 50th wedding anniversary are given gold as present as it signifies that their love is timeless and precious.
However, we're going to look at other memorable 50th wedding anniversary gifts for mum and dad that you can surprise them with.
Let's take a look below!
Home Ornament 50th Anniversary Gifts
This Elegant Anniversary Pewter Plate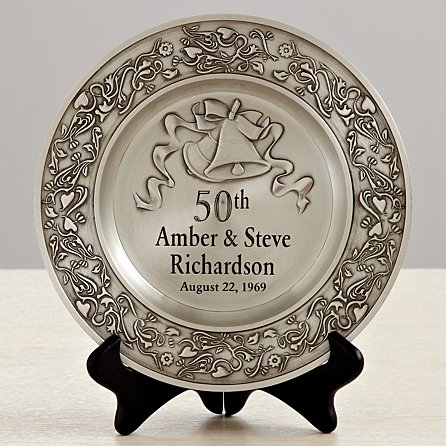 If you're looking for something they can proudly display in their living room, they're going to love this intricately sculpted plate with its timeless design. You can have their names engraved on it and the date of their weddings. What's more, it's made from 100% pewter!
A Pair of Timeless Champagne Glass
Your parents are going to love this crystal commemorative – it's simple, sleek, and unique. It's THE perfect gift for parents who LOVE drinking fine wine in the evenings.
Pop open a bottle of champagne and surprise them with these beauties. Engrave your parents' names on the glass and make this a gift for vow renewals in their private ceremonies.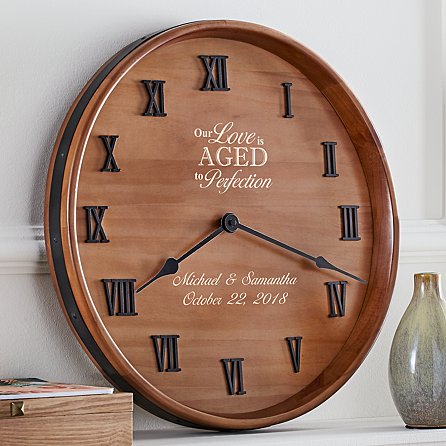 Do you know what they always say? The best things in life take time. Reaching the golden 50th anniversary is often a bittersweet journey, but most married couples would not have it any other way.
This represents that your parents' love have aged like fine wine, a beautiful reminder that the both of them have an unbreakable bond that comes only once in a lifetime.
It's fully customisable, you can have your parents' name, wedding date, and your message engraved on this strikingly crafted pine wood barrel clock.
 This Simple 50th Anniversary Word Art
Sometimes keeping it simple is the way to go. Surprise your parents with this beautifully printed digital word art, which you can have customised to make it more memorable.
 You can have the colour, font, and styles customised depending on your preferred design. Play around with words, you can have the names of cities they have traveled together or the favorite activities on print.
They can hang this on their wall or have it displayed on the living room cabinets as a simple reminder of their golden marriage.
Travelers' 50th Anniversary Gifts
World Wall Map Anniversary Gift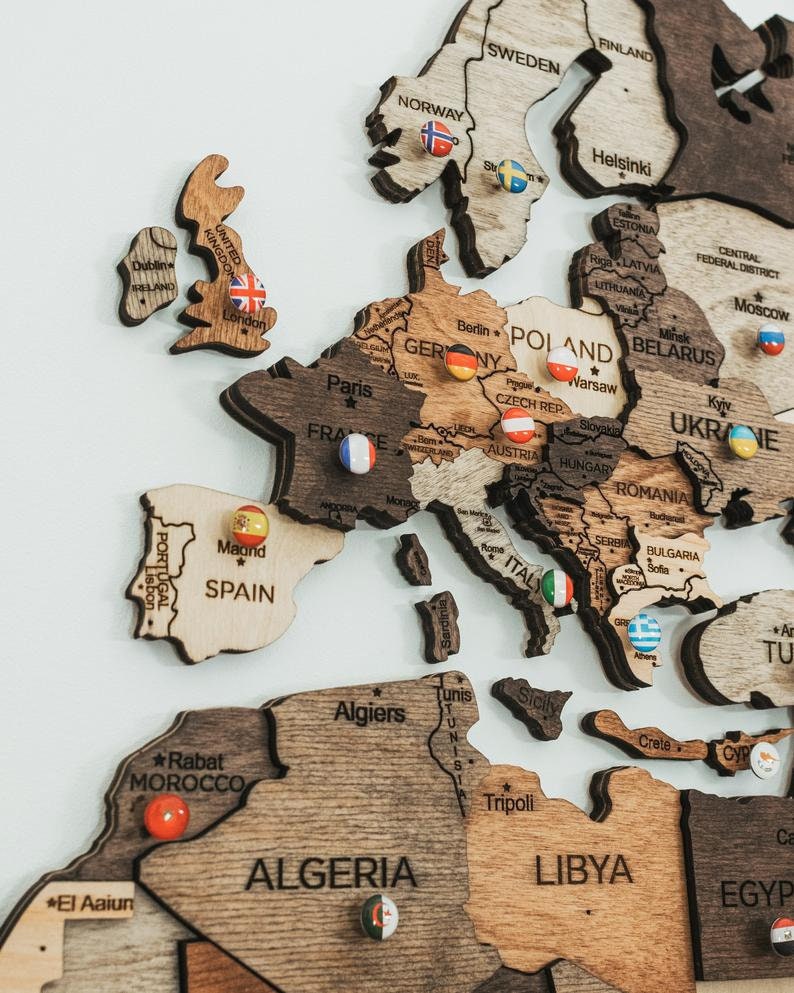 If your parents met when they were on the road or if they share the same passion for traveling, this World Wall Map will bring the memories back. Remind them of how spent their youthful years as they look back in the countries they have traveled together.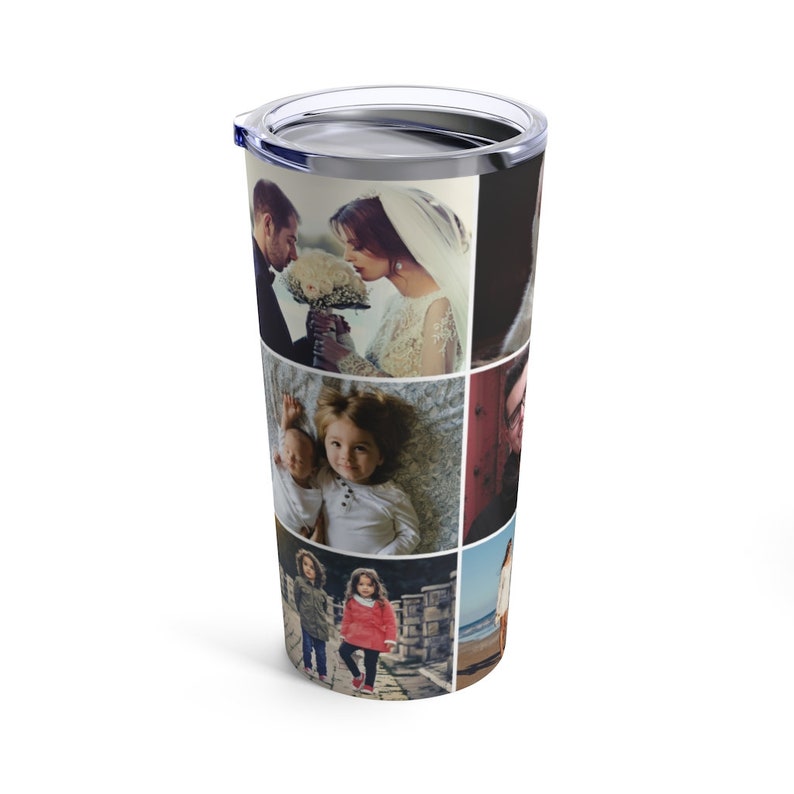 Tumblers are the best-friend for travelers, it's an essential for every backpacker, vacationer, and tourist. While your parents may no longer be able to physically go out to explore like they used to, surprise them with this personalised travel tumbler. You can have their old pictures digitally printed on the tumbler as remembrance of their youth.
This Customised Leather Passport Cover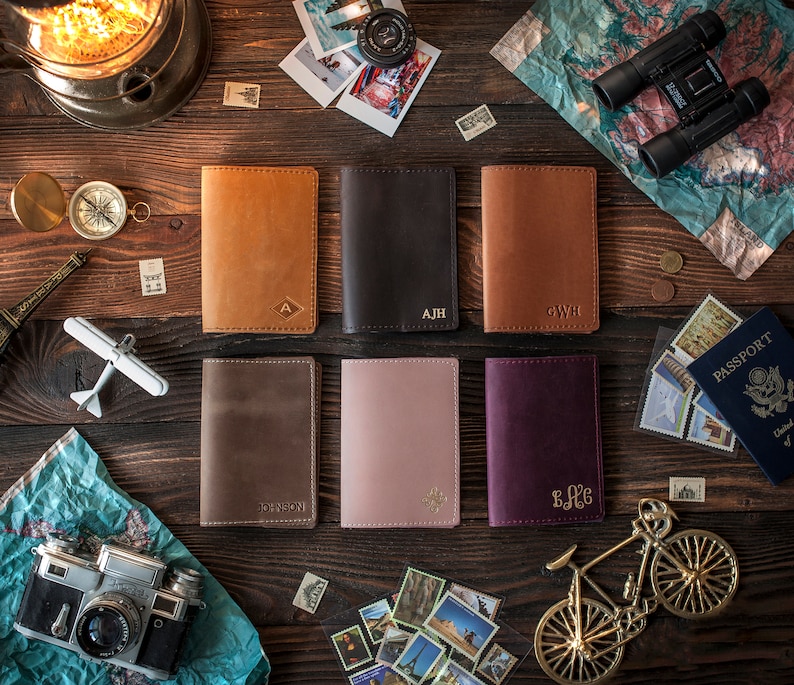 If you're planning on surprising them with a family getaway, you might as well throw in this personalised leather passport. Purchase it directly from the maker's shop, which means these covers are cut and sewn from scratch. You have your parents' initials or names on the cover. This has convenient pockets where you can place your cards and cash without the fear of falling out.
Personalised 50th Anniversary Gifts
Engrave Their Wedding Song On This Hardwood Walnut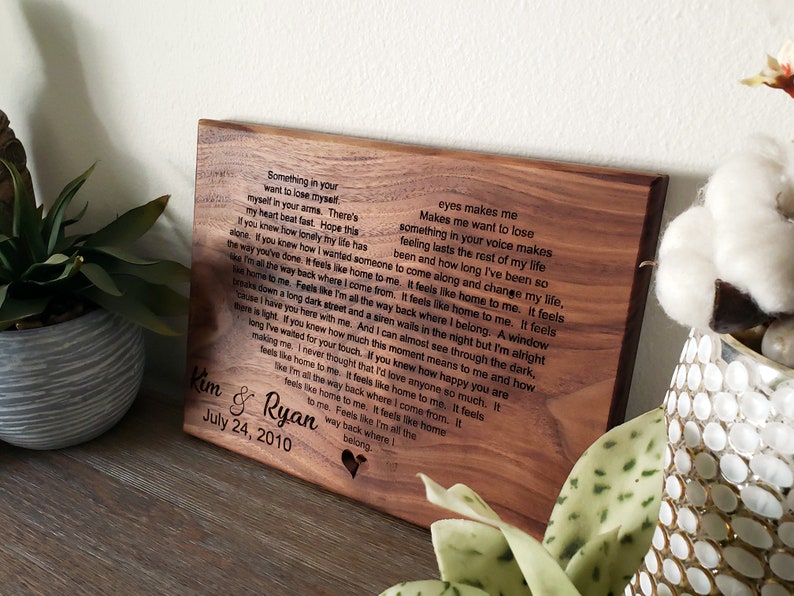 Do you know what would look good in your parents' home? Their wedding song engraved on quality maple wood!
They can hang it in the living room where they can see and be reminded of the love they shared every day. This hardwood can last for many generations to come, they can pass down to family members for the next generations.
Each engraved wood has its own unique set of distinctions, making it super special. There is no identical wood, making it THE perfect personalised gift for your parents on their golden anniversary.
50th Wedding Anniversary Gold Tray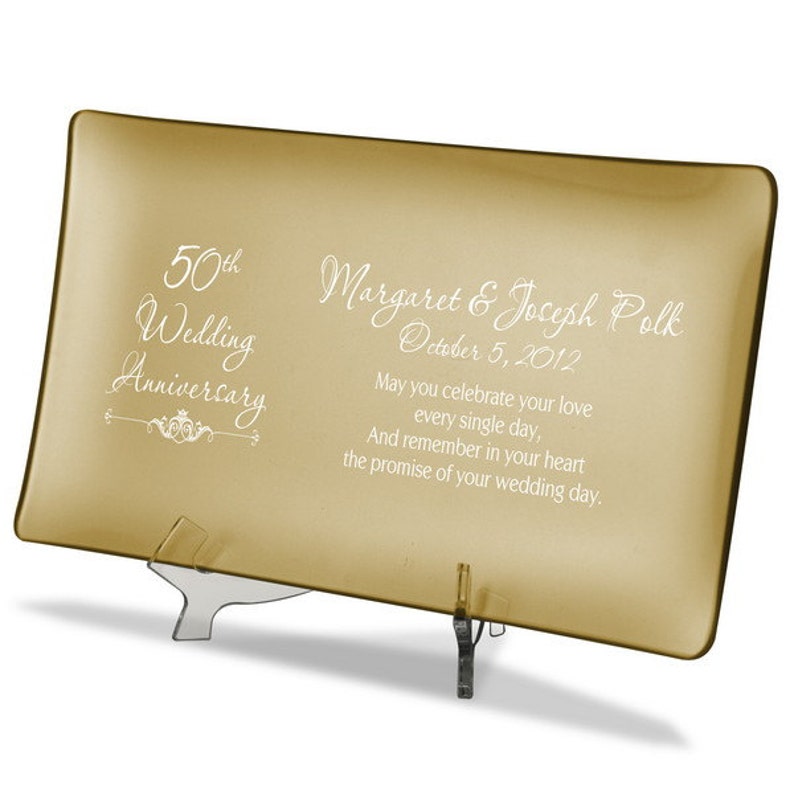 Surprise your parents with a lovely dinner for their 50th anniversary, cook them their favorite dishes, the finest bottle of wine, and use this golden anniversary tray to serve them with.
You can have your parents' names on the tray and a special quote to complete the present. This comes with its clear easel stand, which they can later on use to display this elegant anniversary golden try in their homes. It's a keepsake that can last forever.
50th Anniversary Solid Gold Brass Plate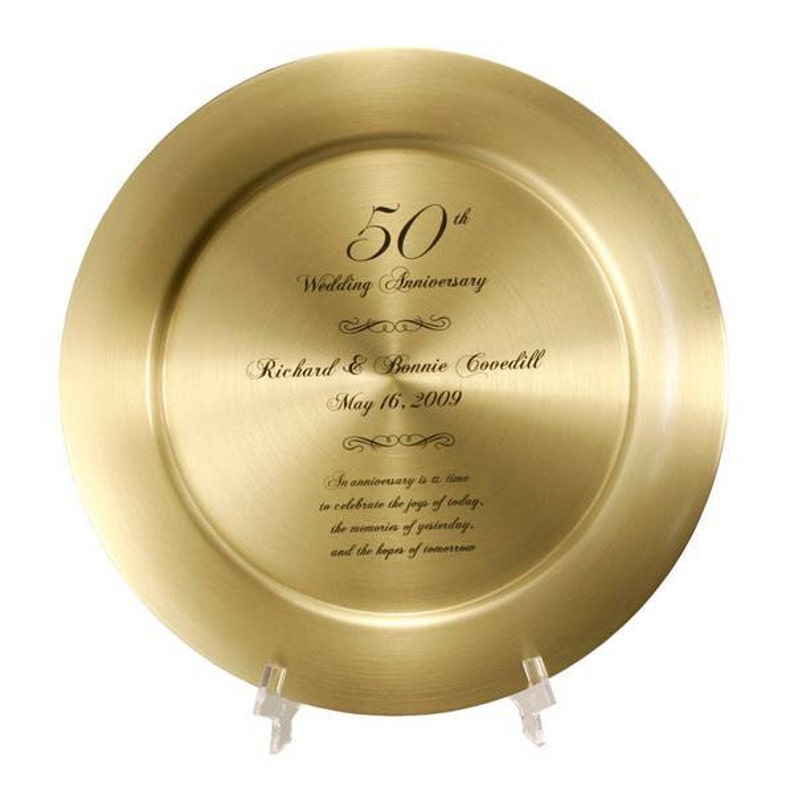 If you want to surprise your parents with something extravagant, they're going to love this 50th anniversary golden plate. It's elegant, sleek, and timeless.
Have their names, wedding date, and a quote engraved on this solid gold brass plate. Similar to the anniversary gold tray, this has an included clear easel stand, so if you're looking for something more compact, surprise them with this baby.
Family Is Like Branches In A Tree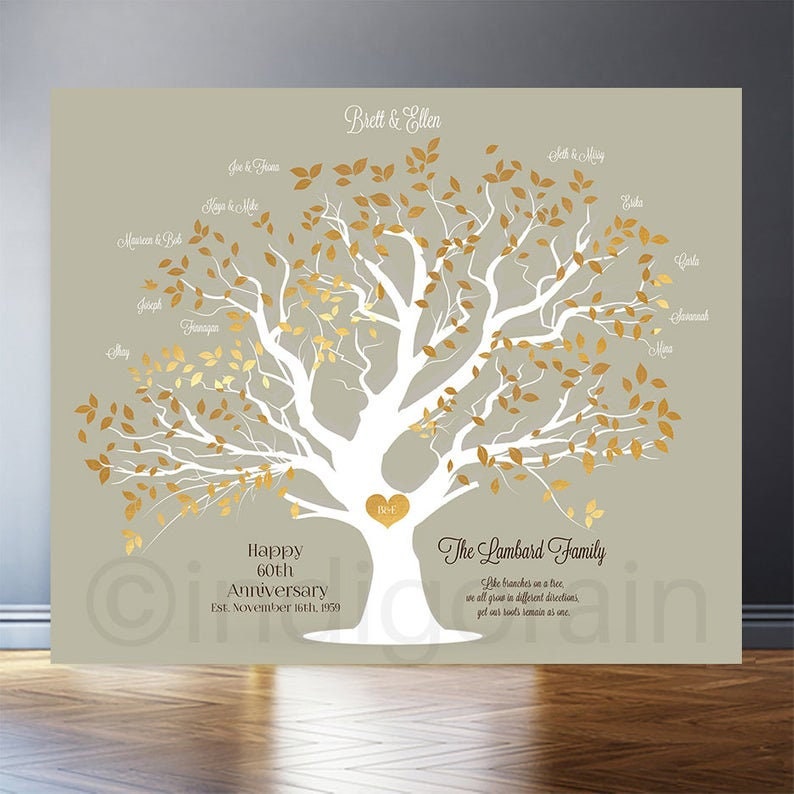 After spending 5 decades together, your parents have grown the branches of a family tree. Remind them of the loving family they have planted and grown together as the roots. Have the names of your family printed on the tree's branches as a physical representation of how far they've gone.
If you really want to be creative with this one, secretly install this on the living or dining room wall to surprise them in the morning.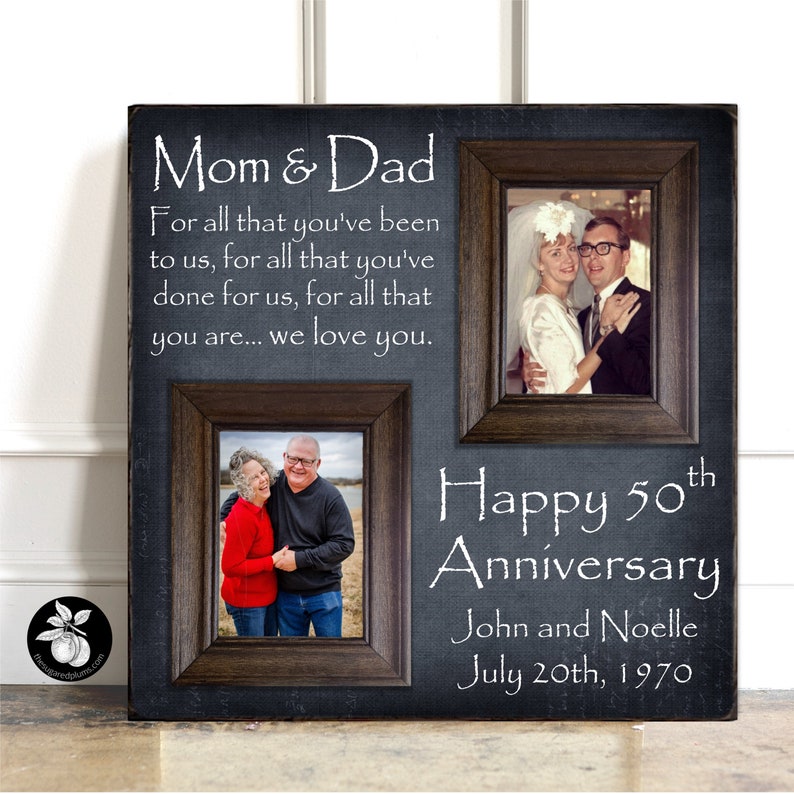 Keep it simple – give them a gift that brings them to years of happy memories. Find the oldest picture of your parents and the most recent photo of the couple, put it on this clever Then and Now Picture frame, and wait for their reaction! It's a special gift for parents made with love and care – a gift that will last multiple lifetimes.
Matching 50th Anniversary Shirts
Celebrating Our 50th ANNIVERSARY Couples T-Shirts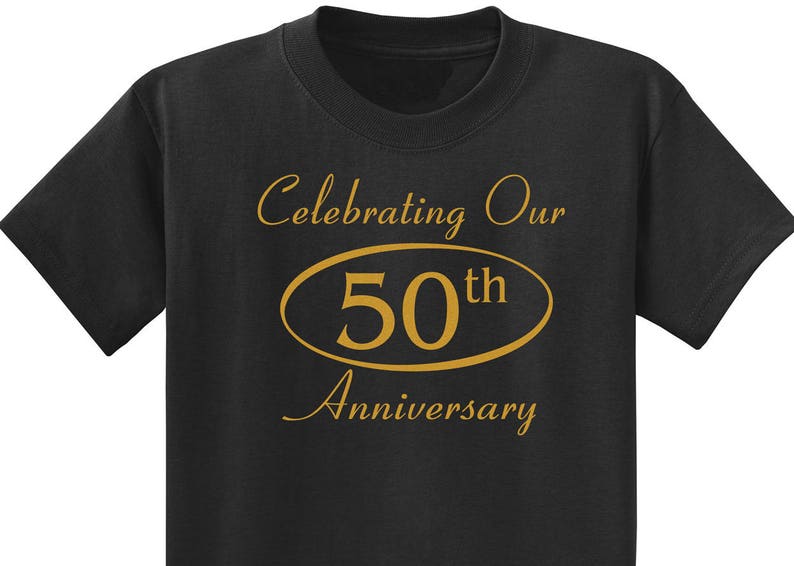 There are only a handful of people on earth that can proudly say "I've been married for 50 years" and your parents are one of those couples! Whether it may be a small family gathering or a full-blown anniversary celebration, let your parents wear this matching 50th anniversary T-shirts. They deserve to wear it with pride and flaunt their relationship on this special day.
Quarantined 50th Anniversary shirt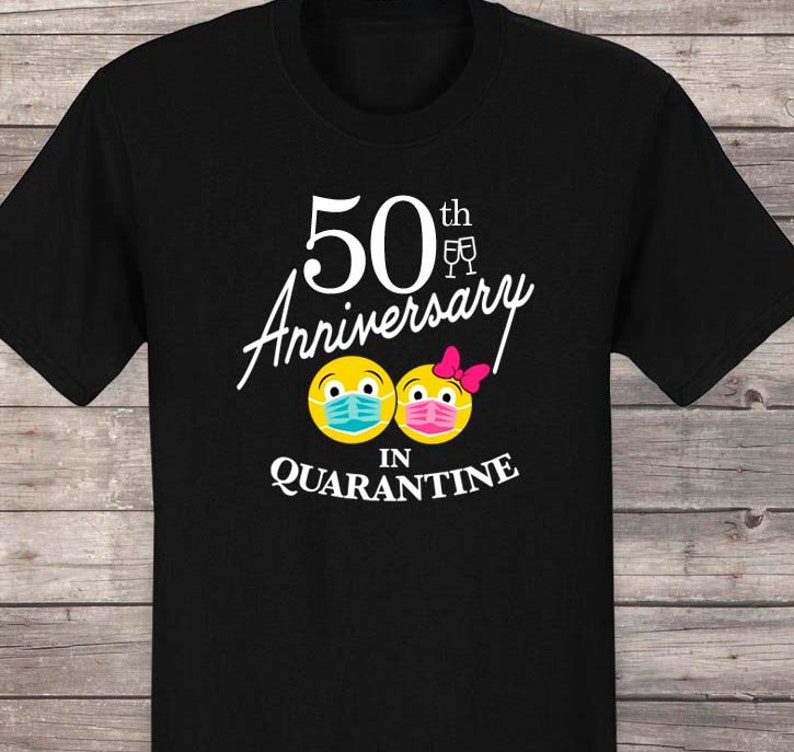 Not only are your parents celebrating their anniversary as a mark they've reached the golden peak of their marriage, but they're celebrating it in quarantine!
2020's anniversary is one the entire clan will NEVER forget. Give them this comical anniversary shirt so they can have a glass of wine where they can think back of the anniversaries where they were NOT quarantined.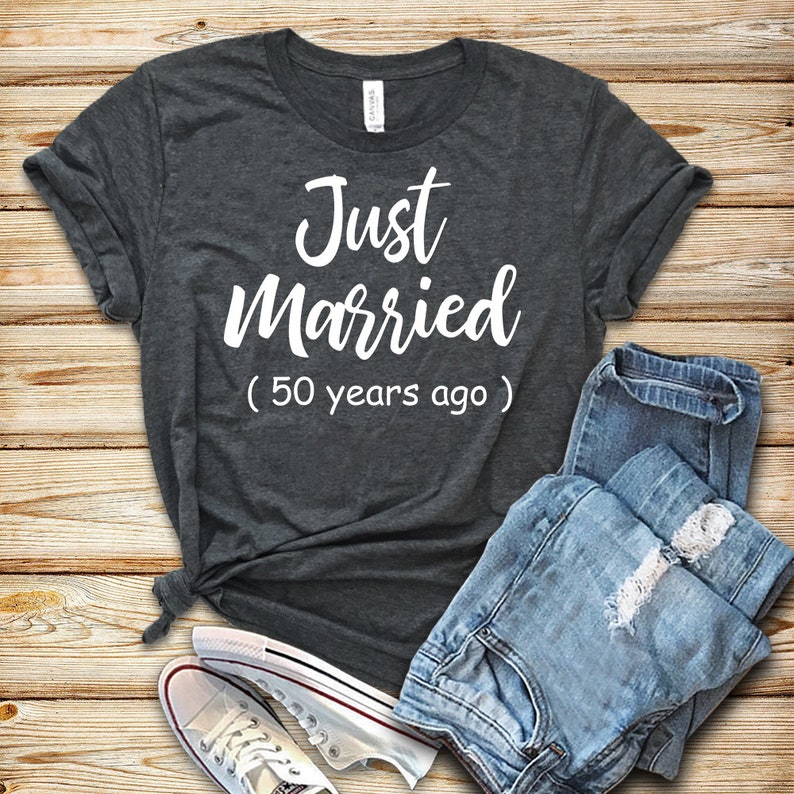 Well, the shirt's not lying. Give your parents something to wear on their 50th anniversary, this is bound to set the whole family laughing. Bring back their youth with this hip and trendy couple shirt, your mom can rock this pre-shrunk shirt while your dad can bring out the guns with this classic fit tank top.
If they don't fancy shirts, you can always surprise them with this badass Just Married 50 years ago hoodie!