PERSONALISED NETBALL GIFTS
Netball is a very popular sport, especially amongst commonwealth countries. It is a friendlier version of basketball, as it is played with 7 players, a lot less contact, and mostly played by women. However, that doesn't mean it's less competitive.
The sport is relatively well-known and has garnered a considerable amount of attention from all over the world. That being said it has a lot of fans.
One of your relatives or beloved may be one of these fans. That's why we've got the perfect gifts to choose from lined up for you!
Custom Netball Clothing
Netball was created a year after basketball was. It was intended to be a sport for women as it has most likely become such.
The sport is, as the shirt says, a cool sport. It's just as fun and competitive as its predecessor. Fans who love this sport will surely agree with this shirt's statement.
The shirt comes in sizes from small to XXL. 
Netball players, like all other athletes, have their style, their vibe, their preferences; their way of life.
This sweater makes them freely express their love for the game and their identity.
The sweater comes in various sizes and colors.
When you are an athlete dedicated and in love with a sport, it becomes your whole life. Suddenly your daily routine revolves only around four things; Eating, Sleeping, playing the sport you love, then doing it all over again.
Get this shirt for your netball-loving beloved to let them know you support their sporty addiction.
The shirt comes in different colors and sizes from s to 5xl.
Netball, like all other sports, has uniforms called jerseys. Jerseys are what set different sports apart. The uniforms are designed with different kinds of colors and logos to also set them apart from other teams.
With this gift, you have the freedom to choose the design of the jersey for your loved ones. You can put their names, nicknames, and other things you might think they like.
Sizes, colors, and designs are all changeable.
The main role of the Goal Shooter (GS) is to score, by shooting the ball into the hoop. This easily makes them one of the most important players on the team.
This Goal shooter hoodie is a great gift for netball lovers. This makes them feel more connected to the game. It also gives them somewhat a sense of importance. This gift will surely make them very happy.
The hoodie's material can be of your preference. You can also change the color. Various sizes are ranging from small to 5xl.
Netball-Inspired Gifts
Personalised Netball Player Position Keychain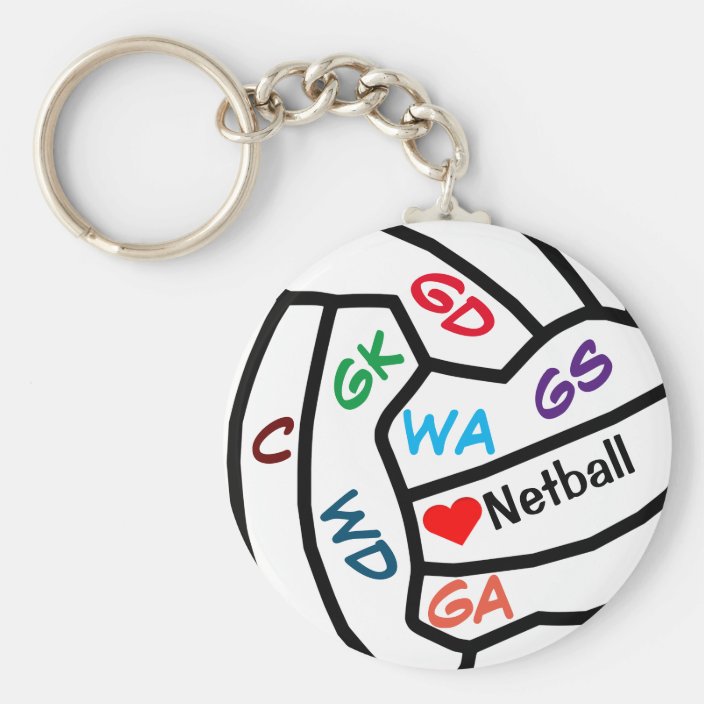 A netball key chain is a perfect gift for a netball lover. This keychain features a miniature netball clinging on to a chain.
You can change the position label of this chain to the preferred position of the one you plan to give it to. Like other sports, netball also has different player positions.
Everyone loves a good treat, especially sweets.
This netball lollipop treat will surely satisfy the recipients one way or the other. You can design the treat to suit your taste or the taste of the one you plan to give it to. You can put names, quotes and other stuff on the lollipop
The treat is available in a variety of colors and is sure to be delightful to anyone who will receive them.
A whistle is used by a referee or a coach. However, it is not limited to this group of people.
All sports lovers are familiar with this item and having this as a gift will surely be delightful. It will remind them of one of the most familiar sounds of sports, that loud, sharp noise.
What so special about it? It can be personalised! You can put the name of your loved one on this special whistle. You can also put other memorable writings such as quotes to make it, even more, meaning full. This gift will surely melt the hearts of sports-loving fans.
All sports are a form of artistry. That being said, it can be incorporated into different forms of art as well.
This Netball word art print is a silhouette of a netball player holding a netball. The silhouette is composed of several different words.
These words can be names, quotes, messages, or anything you desire. The number of words is also of your choice. This allows you to make the gift a lot more exclusive and special.
Give this to a netball fan you find close to your heart and make them feel special with this gift. They will surely love it!